Transition to Transition
Student clubs at Stevenson adapt to new hybrid schedule.
Every fall, Diversity Council decorates the halls of Stevenson with international flags and culinary delicacies for the World's Fair, an annual opportunity for students to showcase and appreciate various cultures on campus. Meanwhile, Kiva shuffles students and their families into the Performing Arts Center to watch student singers compete in their S-Factor fundraiser just one year ago. However, both of these events were largely absent on Stevenson's campus this past fall.
Like Diversity Council and Kiva, many other student clubs also had to adjust their plans in response to COVID-19. Since the beginning of the second semester, clubs have also had to consider the new hybrid schedule in making adjustments, from organizing major events to weekly meetings. 
"It's definitely been a dilemma," Ted Goergen, Director of Student Activities, said. "It's shifted some of the start times of clubs to 4 p.m. instead of 3:30 p.m. so that our students that were in the building can get home and logged in before the club starts." 
On the other hand, morning clubs have had to deal with the hybrid schedule pushing back the school start time. For example, Future Health Professionals (HOSA) decided to shift their Zooms to afternoons, while Future Business Leaders of America (FBLA) is sticking to their morning meetings but canceling them on hybrid learning days. These scheduling choices are just a few of the many adjustments that clubs have had to make.
Diversity Council
Not being able to hold World's Fair this past fall, Diversity Council had to adjust its yearly plans since its planning takes up a lot of their first semester. This has actually opened up the club's schedule and altered the nature of their weekly meetings. 
"For example, we spent a meeting talking about anti-semitism and Black History Month," Diversity Council President Sneha Mohan said. "It's really cool to talk more about the actual cultural significance behind what we do instead of just planning these events and not really taking the time to appreciate the culture we're trying to represent."
According to Mohan, the increased discourse about race and ethnicity has boosted the club's membership despite all meetings taking place in a remote setting. Mohan has found effective ways to promote participation within the club after navigating the Zoom environment.
"Breakout rooms have been an amazing way to get more people engaged in discussions," Mohan said. "We usually have some kind of presentation, watch some videos of first-hand speakers talk about certain holidays or situations that they faced, and then go into breakout rooms to discuss in small groups."
Beyond utilizing breakout rooms to their maximum advantage, Diversity Council has taken further steps to increase engagement. Their collaborative meetings with other clubs at Stevenson, such as Zumba Club and German Club, have proven to be a success.
"We had a combined meeting with Zumba Club, where we learned Latin Zumba and [about the Latin] culture," Mohan said. "We also had a combined meeting with German Club, where we group-cooked German dishes via Zoom and consulted each other on recipes."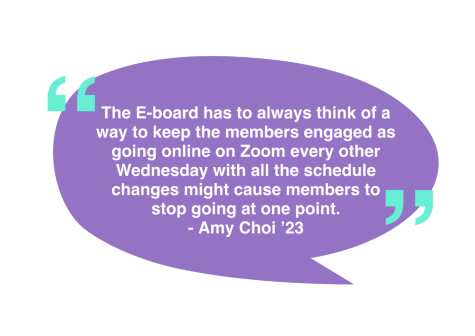 Kiva
While Kiva usually hosts yearly fundraisers, they have had to cancel many of their events this school year. Fortunately, Kiva still ran their annual S-Factor singing competition by turning it into a digital event. 
"For our current fundraiser, S-Factor, we had to make many adjustments," Amy Choi '23, a Director of Publicity, said. "What would have usually been contestants performing on stage in the Stevenson building, it's been modified so that performers send their videos online and the actual singing competition taking place on video call."
While Kiva members are occupied with making S-Factor COVID-19 friendly, they have also had to work internally to boost member engagement. The shift from in-person to online meetings has forced Kiva to rethink how their members can fundraise as members can no longer raise awareness on campus. 
Additionally, changes from the hybrid learning schedule have further disengaged members from Kiva activities. With the hectic schedule changes and earlier start times, members are struggling to stay motivated and dedicated.
"The E-board has to always think of a way to keep the members engaged as going online on Zoom every other Wednesday with all the schedule changes might cause members to stop going at one point," Choi said.
Regardless of the new hybrid schedule, clubs are continuing to run activities with their members. While Diversity Council has taken advantage of the virtual meetings to open up new discussion forums, Kiva has worked around their limitations to host virtual fundraisers.
"Every club is unique and has unique circumstances," Goergen said. "A lot of them are just figuring out what works best for the members they have."