Fresh Flicks: A Review
Statesman staffer reviews two new Netflix shows.
The Queen's Gambit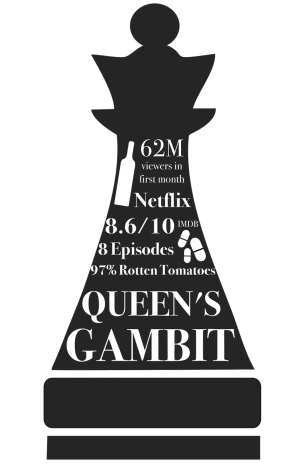 From the opening sequence of "The Queen's Gambit," I was hooked. As soon as the show starts, we are immediately introduced to Beth, our protagonist, who wakes up from a bathtub and stuffs some pills down her throat with vodka before racing to the chess match. As she composedly takes her seat, her mind traverses back to her childhood, from which point the story starts again.
This original Netflix series is Scott Frank's adaptation of Walter Tevis' 1983 novel by the same title. Throughout its seven episodes, I was taken on a journey of Beth's rise from the basement of an orphanage to the top of international chess circles. Even without much knowledge about chess, I had no trouble following the plot as it focused more on illustrating Beth's personal development than evaluating her techniques as a chess player.
As Beth goes from a local star to an international sensation, all the while dealing with trauma and addiction, I was drawn to how and why she would win each round rather than whether or not she would claim victory. Her rough background — surviving the car crash that killed her mother, stubbornly requesting the orphanage custodian to teach her chess and training herself with the hallucinatory chessboard on the moonlit ceiling — established her as a more three-dimensional character. Seeing her relationship with other characters, especially her new mom Alma, was equally as charming.
"The Queen's Gambit" works more like an empowering coming-of-age tale of a superheroine than a dark, emotional drama. The intricate portrait of a small girl growing into a confident champion of not only the male-dominated chess world, but also her own life, makes this series a must-watch. Whether a comedy or science fiction fan, anyone would easily relate to Beth's life — not to mention be immediately absorbed in her dynamic character in the first minute of the film.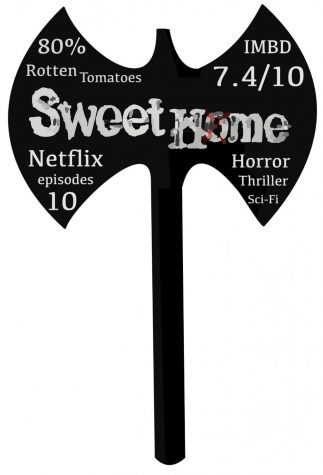 Sweet Home
As someone who read the original webcomic that "Sweet Home" was based on, I was excited to see the live-action adaptation on Netflix. This South Korean ten-part show is a horrific creature feature full of gore, suspense and mystery that, in my opinion, outdid the graphic novel version. What really sets apart "Sweet Home" from other zombie apocalypse movies is that the humans turn into monsters themselves with various looks and different reasons for such transformations. 
The unique setting where all the survivors are trapped in an apartment building with monsters roaming around both inside and outside further builds tension. Also, the dynamic relationships among the large cast add on to the intricate narrative of humanity and survival. The backstories that each character has increase the emotional appeal of "Sweet Home."
While it isn't recommendable to someone easily freaked out by excessive nosebleeds, headless monsters or line after line of subtitles, "Sweet Home" is the most un-clichéd roller coaster that would keep you on the edge of your seat. If thriller is your genre, it should definitely be added to your binge-watch list.