Health, Happiness, and Hybrid Learning
Students are opting to return BTS for mental health reasons
In the movie Groundhog Day, TV weatherman Phil Connors is forced to relive February 2 over and over again, trapped in the small town Punxsutawney for what feels like an eternity. For Kyla Smith '24, remote learning has felt the same way: she wakes up, logs onto Zoom for school, does her homework, falls asleep, and repeats.
With the difficulties of remote learning, Smith felt that loneliness, stress, and sadness tainted her first semester of high school. Now, after months of Remote Learning+, she's excited to take advantage of the Hybrid Learning Plan offered this semester.
The hybrid program, which started on January 19, allows students to come to school up to three half-days a week. With hundreds of students and faculty now at campus every day, the hybrid plan is the first time many have seen familiar faces in person for months.
"[Remote learning] was just a big field of loneliness, and a lot of times, stress from work and procrastination comes along with it," Smith said. "I just want to establish a better connection to students, and we're doing it in a more normalized freshman year."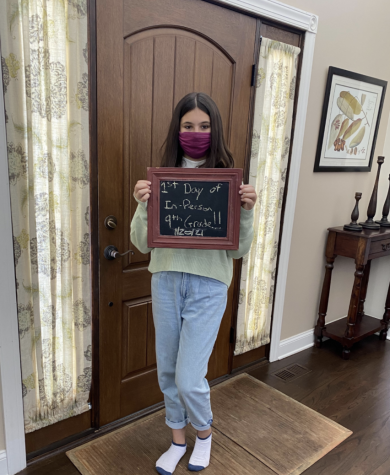 When explaining why Stevenson decided to introduce the hybrid model, Principal Troy Gobble cited the need for normalcy, socialization, and the need for variety in day-to-day life. He hopes the hybrid model will bring greater flexibility to the student body.
"There are some people who just need a change," Gobble said. "Kids need to come to school to feel the difference of the day and to be in a socially active place."
Having never experienced an in-person school day at Stevenson before, Smith believes that hybrid will act as an opportunity to become accustomed to the building before the pandemic ends. After doing a poll on her Instagram story and speaking with friends, Smith noticed that other first-year students feel the same.
"They're doing it too just because they want to meet new people," Smith said. "We all just want to have at least some sort of the normal feel for the building before we start completely going back in person."
Along with the element of socialization that hybrid will provide for students, Peer Helpers — a club that hosts peer counseling and campaigns to promote mental health — will also take advantage of the new hybrid model. Sarah LaFrancis, the club's sponsor and Assistant Director of Student Services, hopes to expand the reach of Peer Helpers to both online and in-person.
"I think we might be able to do some things in the building like signage for the students coming in the building," LaFrancis said. "I think it's still super important to be reaching out the way we have been reaching out online, [such as] with Zoom webinars."
Peer Helpers President Megha Verma '21 has also made plans to reintroduce elements of the previous year's Mental Health Forum into a virtual setting, considering the utilization of the hybrid model in order to spread awareness to the event. The forum consists of a panel of students, teachers and parents speaking of their own experiences with mental health and providing students with a safe space to talk about their own issues. 
"My hope and our intentions are always going to be that [the Mental Health Forum] brings about not only awareness but shows students and parents alike that [mental health] is something that needs to be talked about instead of pushed away," Verma said. "That's when I think it just gets overwhelming and spills over into every aspect of your life."
With the incorporation of the hybrid model, Peer Helpers and other Stevenson clubs have discussed ideas to provide students with mental health-related activities and awareness weeks, both virtually and at school. Through collaboration with each other and potentially employing more advertisements and announcements, these clubs hope to reach out and help even more students. 
"I think that is such an amazing step to just start talking, be open, communicate, and don't feel ashamed of your feelings because they're valid, and you know they're not your permanent state of mind," Verma said. "They're not going to be how you always feel, but they are valid, and you deserve to be heard and feel respected."
For Smith, one point of comfort doing remote learning is that Stevenson offers a plethora of resources for students, such as Peer Helpers and counselors. Knowing that she has a community supporting her makes going to school in a pandemic feel less lonely for Smith.
"Many people don't speak up in this environment about their mental health and it's important to know that there are people who will listen and care," Smith said. "Even though it might seem like they can't really help during online learning, it's always good to speak up because if you keep it hidden for too long it gets worse."