P(P.E.) Class
How gym & dance function in the Hybrid Learning Model
With the start of Stevenson's Hybrid Learning Model on January 19, students are able to attend gym and dance classes on campus rather than on Zoom. The classes occur during the same periods that students had gym or dance during the first two weeks of second semester.
Gym and dance on campus follow the universal safety restrictions—including mask wearing, social distancing and sanitizing—established for the new model while simultaneously attempting to provide students with a more normal school experience. Unlike academic classes, on-campus classes for gym and dance will not use Zoom in the classroom—instead, students at home will have a separate teacher and Zoom classroom not including students on campus.
In an attempt to reduce the number of students present at each gathering, class rosters are divided based on students' assigned colors (Gold, Green, or Blue) which are based on where they live. In turn, class attendance is limited to a maximum of roughly one third of its usual size.
"There are at most 80 P.E. students that we have to accommodate per period, as opposed to 250 students," Director of Athletics Eric Ramos said.
Although students who are learning online don't have access to the same equipment, teachers are still trying to offer similar workout experiences. 
One of the goals that the new hybrid model of gym aims to achieve is improving on-campus gym classes—such as by better simulating prior P.E. classes—without worsening online gym classes. Choice P.E. teacher Annie Cuculi said that online and on-campus gym classes share similar curricula to fulfill this goal, though pupils attending classes on campus are given more possibilities.
"We're able to accommodate students in different environments," Cuculi said. "[But students on-campus] have access to weights or equipment."
Cuculi used the example of a squat to demonstrate how the hybrid model suits all students. An online gym class can have a teacher lead students through the motion of a squat over Zoom while an in-person gym class can have a teacher—socially distanced and wearing PPE—give equivalent guidance to the students in front of him or her. One of several differences between the two options is that students on campus can use dumbbells or kettlebells, which not every student can access at home. Another difference may be more specific critiques of exercise form when students and teachers are face-to-face.
One motivating factor for students to come to gym and dance classes on campus is the change in environment. Hybrid learning offers a more professional atmosphere for gym and dance classes compared to classes at home, and in turn allows for better participation and comprehension.
"It's harder to do certain things on carpet compared to in a dance classroom where the floor is wood," Dance 3 class student Joy Fei '23 said. "When the teacher is doing a demo [on Zoom], sometimes it's hard [to hear] because she's near and sometimes she's not."
While providing a better environment for students, this on-campus atmosphere has also implemented several safety features and extra precautions in order to diminish transmission of COVID from equipment. Workout locations with the greatest risk of transmission, such as communal areas including locker rooms, weight rooms and cardio rooms, are closed. Teachers are attempting to adapt programs from before quarantine and courses offered last semester to function under these new protocols. 
"On some of the things that have drawn our kids to our classes, we're [trying] to reinvigorate those and recreate those in a really safe way," Ramos said. In regard to activities such as badminton or basketball, "[students] have [their] own personal things that [they] clean up."
For example, when students are playing basketball, each student has their own ball and hoop and uses the "wipe-in, wipe-out" system to eliminate germs.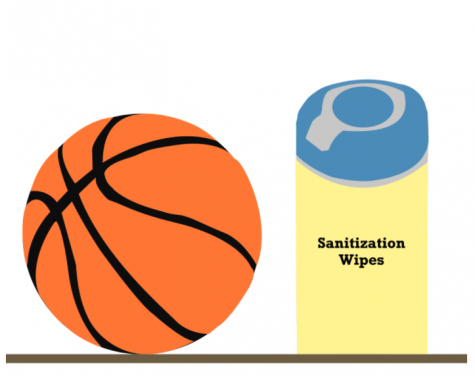 Many teachers are optimistic about the effectiveness of the hybrid model since students have been engaged and cooperative over Zoom. Teachers feel that students who return to campus will understand the safety procedures and follow them diligently.
"We have great students at Stevenson High School and I have full confidence that the hybrid learning experience is going to reflect that," Cuculi said. 
As with teachers, the promise of safety was also a large factor in Fei's decision to return back to school for her dance class. Fei appreciated restrictions such as six foot spacing and mask wearing.
"The fact that we have three groups and that the [students in the] classrooms are going to be spaced out makes [me feel that it's] safe enough to go," Fei said.
Regardless of the hybrid model's specific challenges and opportunities, teachers and students are both hopeful for a successful return and are eager to regain a sense of normalcy during these trying times. In fact, many faculty members are most excited to simply teach students, not screens.
"We got into teaching to be around kids, so I know I'm the most excited about [students] coming back," Ramos said. "The heartbeat of the school is not here until the kids are back."