After The 2020 Election, How We Move Forward
Statesman urges unity, but also suggests ways for continued activism in a Biden era.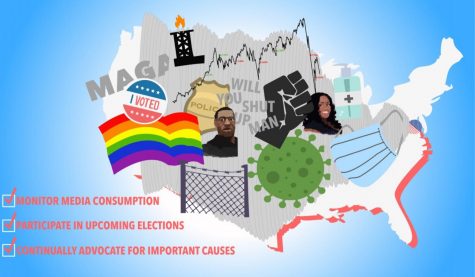 Over the past few weeks, at least 62 percent of eligible voters in the U.S. voted in the 2020 presidential election, making it the highest percentage turnout in decades. In swing states, the race proved to be especially close, with the result determined by just tens of thousands of ballots. On Saturday, November 7, four days after the election, major media outlets projected that Democratic candidate Joe Biden will be the President-Elect. 
Biden, who has deep legislative experience as a former high-ranking member in the Senate and Vice President, will be facing his biggest challenge yet: being a "President for all Americans," including at least 71 million who voted for President Donald Trump, while unifying the divisive interests in his own party. 
No matter who you supported during the election, Statesman feels it is imperative that the American people rally behind Biden as he tackles COVID-19 and the economic recession, issues that affect every person. For Republicans, the first step is acknowledging that Biden was rightfully elected president. A General Services Administration official recently prevented the Biden campaign from accessing some government resources, an early signal of the rocky transition that is to come in months ahead. Actions like these only increase partisan divisions and on Inauguration Day, namely, make America vulnerable to foreign enemies.
Although Statesman believes that the first step to restoring unity to this country was to elect Biden to office, Americans must not become complacent just because the Biden administration has been elected to office. We must still hold them accountable. In fact, Statesman recommends that after consuming a healthy media diet of reputable newspapers such as the New York Times (to avoid accidentally spreading misinformation), people should continue to post about causes they care about and open the door for political conversations with peers.
Joining together with groups of similarly-minded people, no matter which political party you support, and donating, volunteering to phone or text bank and joining a voter protection organization are among the most effective strategies to create meaningful change beyond submitting a single vote. For high school students who can't run for office either, these are often the only options. 
Statesman suggests that people don't need to wait years for politicians to canvass for their vote; two U.S. Senate runoff elections in Georgia are happening in January and will help decide which party will be in control of the Senate, shaping America's domestic policy for years to come. In Illinois, down ballot elections such as the consolidated primary election are also coming up in early 2021. 
Though it may initially feel like a small drop in a large pond, these methods appear to work: right before this year's election, The Atlantic profiled a group of suburban women, who shocked at Trump's election in 2016, revitalized their club to dramatically increase membership, increase social media presence and organize weekly drives. Ohio remained red, but the women were able to flip a state representative seat for the Democrats, a victory seeing that they were largely focusing on local races. A key example on a national scale is Stacey Abrams, who after losing the 2018 gubernatorial race in Georgia, founded Fair Fight, a voting rights organization that has registered over 800,000 new voters.
In particular, Black voters helped deliver Biden's victory, first in South Carolina during the primaries and more recently in metropolitan cities with higher Black populations, contributing more votes towards Biden than Hillary Clinton in 2016 in those same areas. Considering Biden's checkered past in his much-criticized handling Anita Hill's sexual assault testimony and his 1994 crime bill that critics say unfairly discriminated against Black people by increasing mass incarceration, Statesman believes it's all the more important to hold Biden accountable for the promises he made to Black voters in regards to racial justice. 
Back in 2018, the "blue wave" of first-term Democratic congressmen was largely seen as a referendum on Trump. As the 2022 midterm election looms in the background, voters can hold Biden accountable by voting Republican or third-party if they are unhappy with his behavior and let them provide a check on Biden's policies. And if he decides to run for reelection in 2024, Biden will definitely be inclined to listen to the will of the people.
Though the 2020 election cycle is over, change still desperately needs to be made, and a multitude of ways to make change from now until 2024 exist. Speaking out via social media, donating, and volunteering are just some of the many options available to high schoolers — even those who can't vote. America, the ball's in your court.