Reopening Readiness
Stevenson administration outlines reopening plans for second semester in November 9 webinar
On November 9, the Stevenson administration hosted a webinar for parents and students detailing reopening plans for second semester. Principal Troy Gobble and Superintendent Eric Twadell led viewers through the structural changes in the school schedule, along with social distancing guidelines that will be implemented once the hybrid model starts in the future.
In order to allow enough space to maintain a six feet distance standard, the student body will be split up into three groups: Green, Gold or Blue. Each group will be assigned to come in-person on alternating days of the week. Students will be able to choose on a daily basis whether they want to attend in-person learning or stay home on Zoom for the day.
"The most important thing for us to do was to make sure we were giving kids the choice about what they wanted to do and letting them continue to make that choice throughout the year," Gobble said.
The three groups will alternate days of the week to be in person, with no students coming in on Wednesdays to allow time for deep cleaning. Each group can only come in for half of the school day to limit exposure to other students. 
In addition to prioritizing safety, the school is also making efforts to ensure students have a valuable learning experience throughout the second semester. 
Students who stay home will be on Zoom for all of their classes, and students who attend in-person learning will also log on to the Zoom so they are able to participate in breakout room activities. Like many other members of the Stevenson community, Liana McGhee '21 is excited to return to this in person class structure.
"Learning around other people and interacting with my peers is really valuable and e-learning has just been a bit difficult for me in the sense that you can't really collaborate with others," McGhee said. 
Another significant schedule change is that every student's first and sixth period classes' time slots will swap. This was done so the administration could remove on-campus lunch periods so students do not have to take their mask off to eat while near others.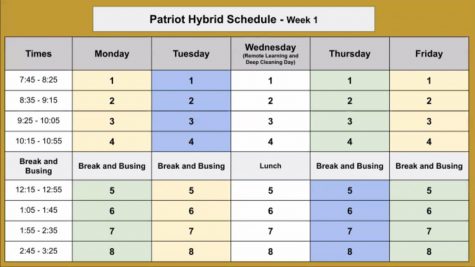 The school's staff wants to ensure that each student who chooses to come back on campus feels safe and protected. Science teacher Jason Carlson appreciates that the school is closely monitoring COVID-19 statistics in order to achieve a sense of safety.
"We want to make sure transmission rates are to the point where everybody is going to be safe and healthy returning to the building," Carlson said.
In addition to monitoring state data, Stevenson will be rolling out a new surveillance testing program to determine the COVID-19 statistics within the community. In this program, the school will periodically test random groups of students for COVID-19. This system is going to be tested on the athletes and staff that are returning to campus during first semester
"We're going to collect samples from students and will be able to tell you right up front whether you have the virus or not," Gobble said. "We'll be able to tell the percentage of students and adults at school that have the virus which will tell us whether it's safe to be open or not".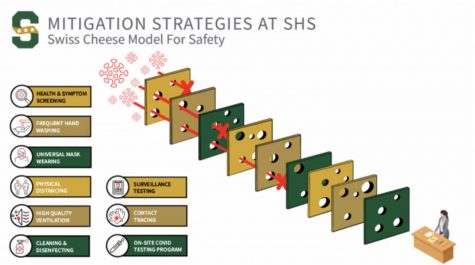 The school is also requiring many social distancing practices to ensure that students and staff are safe from on campus transmission. Masks must be worn at all times and six feet of distance must be maintained between everyone. In addition, plexiglass barriers will separate desks and updated air filtration systems have been installed.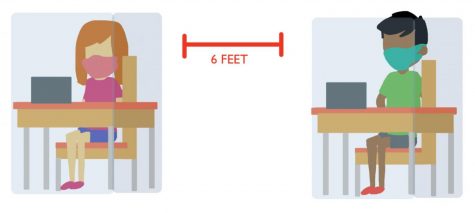 Students, staff and administrators remain hopeful that school will go back to being as normal as possible. According to Gobble, the administration wants to give students a positive high school experience during these tough times and hopes that recent medical developments for COVID-19 can aid in achieving this experience faster. 
"The vaccine hope is really wonderful and we'll do everything we can to give kids a wonderful experience," Gobble said.