It's E-Giving Season!
Stevenson continues to have Give-A-Thon in the midst of E-learning
In any usual November, Stevenson's hallways would be bustling with students running to one another, trying to sell their self-proclaimed "best candy for the cheapest amount" to one another, trying to sell as much candy as possible for the Give-A-Thon (GAT) season. The so-called "season" is hallmarked with students selling boxes full of snacks, candy and other items throughout the halls, raising money to buy gifts for families in need or to collect food cans to donate to the Vernon Area Food Pantry. 
This year, the National Honor Society (NHS) had to adapt the event as there is no in-person learning and students must maintain social distancing. As a result, students can participate in the fundraiser with their families, instead of through their classrooms.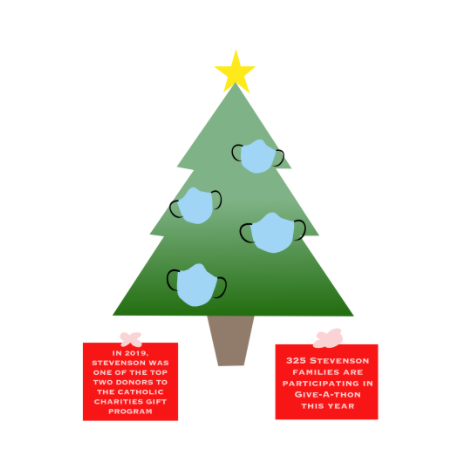 "During this time, it's really important that we as a group continue doing the things that we do because it's hard for everyone to keep a positive mindset and we just want to spread positivity in the community," Emily Kim '21, an NHS Executive Board member, said.
NHS wanted to continue to bring the GAT spirit to Stevenson in a safe and responsible way. Consequently, they established the in-home model where students are now working with their own families to raise money to buy presents. Brett Erdmann, the NHS sponsor, recognizes both pros and cons to the new method. 
 "A lot of times what happens is kids will go home and ask for money and their parents won't necessarily know why, but this year there is more of an engagement at that parent level," Erdmann said. "Parents are working with the students to raise funds, collect food items and purchase baby items."
One of the benefits to virtual GAT is that families are more involved in the fundraising process. One of the charities that families are raising money for is Catholic Charities, which is a local program that helps families in need and connects them with GAT so they have the opportunity to receive gifts and essentials for the holidays. 
"A good percentage of the people we help probably would have virtually nothing to give their kids at Christmas time," said Jim Wogan, a volunteer for the Gift Program at Catholic Charities. 
Wogan's sentiments motivated many students to participate this year, such as Sohi Shah'23. Shah, who participated in GAT last year, said she has been excited to participate again this year, especially during these uncertain times. Shah has even found new ways to raise money this year.  
"I did a fundraiser where I did a dance workshop and I raised money by having each person donate $5 to attend one [class] for adults, one [class] for kids," Shah said. 
With the money that Shah raised from her dance workshop, she hopes to be able to buy products such as a microwave, winter jacket and other essentials on her adopted family's wishlist.  Her goal is to make sure that every family is able to stay safe and have a happy holiday season. 
"Someone will carry gifts out and hand them to a mother with a couple of kids with her and she will cry out of gratitude," Wogan said. "That's the reason you do what you do, to touch people's lives."