Putting the Season Away
Athletes end fall sports seasons, contact days as others prepare for winter seasons.
Across the Stevenson campus this fall, cross country athletes ran miles upon miles in preparation for their season while golf athletes trained vigorously for tournaments. In a typical year, these student-athletes would be accompanied by other sports, such as football, field hockey and cheerleading. Yet due to the risks sports posed by COVID-19, some have been suspended with continuous updates from the Illinois High School Association (IHSA).
COVID-19 cases have been fluctuating throughout Illinois, but the IHSA allowed for some low-risk sports to continue through the fall season: golf, cross country, girls' tennis and girls' swimming and diving. The medium-risk and high-risk sports, including cheerleading, lacrosse and soccer, had their official seasons rescheduled for later in the school year or during the summer. 
"By delaying the majority of the team sports in the fall, it will allow our schools and students the chance to acclimate to what will be, for many, a totally new educational experience," said Tim McConnell, Erie High School Principal and IHSA Board President. "We will do our best to try to give every student-athlete the opportunity for a season this school year."
The IHSA published specific regulations for golf and cross country teams, including keeping social distance for athletes at all times, wearing masks when social distancing isn't possible and having spectators wear masks at all times. Initially, the seasons for fall athletics were meant to end on October 24, with a regional tournament during this period, but the IHSA later announced the golf and cross country teams could participate in an additional sectional tournament.
Albeit fall athletes were allowed to participate in regular competition, regionals and for some a sectional tournament, the IHSA didn't allow for any sports, except for cross country, to hold a State Series. The absence of a state tournament proved to be disappointing for some athletes, like golfer Emily Duan '22.
"I think when I realized there was a high possibility of State being canceled, the thought of 'what's the point then?' was definitely in my mind," Duan said. "It was also tough because a lot of my close friends from last year decided not to play due to COVID-19."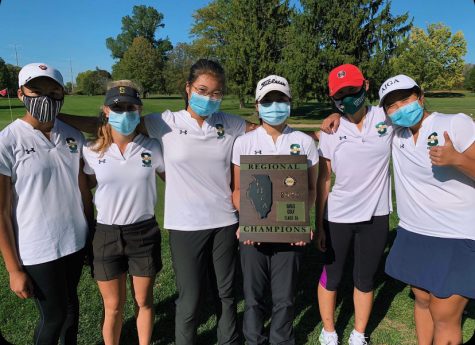 While sports like golf and cross country engaged in the fall season with some modifications, other sports not in season were offered an opportunity for contact days instead. Athletes participated in a practice-like environment in assigned spaces and times from September 7 through October 31. Precautions were still in place with a daily health screener, hand sanitizer readily available and a requirement for athletes to wear masks while playing. Other facilities were inaccessible for students in order to enforce social distancing, like the locker rooms and water fountains. 
On October 18 it was announced that contact days had to come to an end due to a recommendation of an "Adaptive Pause" from the Lake County Health Department (LCHD) and Illinois Department of Public Health (IDPH) due to an increase in COVID-19 cases within District 125 and Lake County. Although the contact days were cancelled, the IHSA said in an announcement on October 28 that contact days provided hope for students-athletes: something that others may not get to experience this winter.
"Contact days for our teams this fall have been an incredible boon to our students' well-being," the IHSA said. "We fear for the mental health of students who attempt to traverse a long winter with no athletic outlet available."
Since the ending of the fall season on October 24 and the cancellation of all contact days, the athletic department has been preparing the school and the athletes for the winter sports season to begin on November 16. However, Governor J.B. Pritzer's announcement on November 17 put a pause on all winter sports until January of 2021 or later.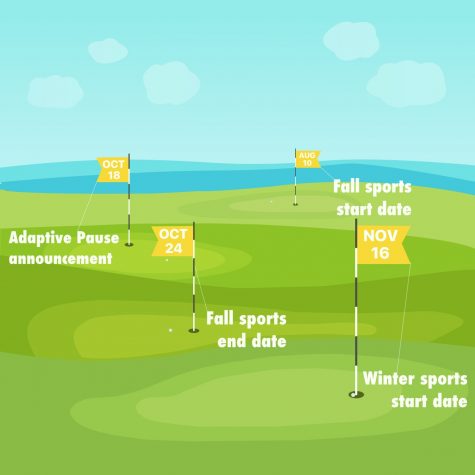 For example, the wrestling season has been postponed from the winter season to the summer. With updates being released to athletes that have drastically affected their schedules and expectations, Jacob Whiting '22, a football, wrestling and water polo athlete, shared that the adjustments proved this year to be a challenge.
"It's upsetting [wrestling was postponed] especially considering now I'm only able to do two sports this year, so I have to miss out on the water polo season," Whiting said. "It's difficult as a three-sport athlete to go from year-round practices after school to no sports, so it's certainly a shift in my lifestyle."
Student-athletes have had to adjust to the changes in contact days, cancellations and continuous updates as the nation navigates the return to daily activities while remaining cautious of the risks of COVID-19. Even without the typical season this year, athletes still are looking to the bright side and setting goals for themselves and for their teams, taking advantage of the situation at hand.
"My team consists of the most hardworking people there are, and I know the majority of them practiced everyday over the summer to prepare for the fall season," Duan said. "It took a couple days for me to realize that we are so fortunate to even have a season at all. I decided that I should make the most of it and take this opportunity to be a leader and a mentor to the new freshmen."