Why Live Fan Attendance Should be Disallowed
Staffer outlines reasons why live fan attendance is detrimental to pro sports players, fans in times of COVID-19
MetLife stadium glistens in the New Jersey rainy weather. Despite the game progressing in the middle of the stadium, the sound is just that, a game. There are no fans. The home of the New York Giants holds 82,000 people, with the potential addition of workers, vendors and janitorial workers. Even if the stadium only allows 20 percent capacity, that's still 16,400 people, well over the CDC's guidelines for the number of people per gathering. 
The number one issue with having in-person fans at a stadium is their safety. Although they may be wearing masks and socially distant, it's still possible to contract COVID-19. Additionally, there is a high risk of contamination on railings, bathrooms, food areas and vendors. These risks may seem small, but added up, and with more and more people in the stadium, they become major health risks. 
The CDC website also states that "the more people an individual interacts with at a gathering and the longer that interaction lasts, the higher the potential risk of becoming infected with COVID-19 and COVID-19 spreading." Stadiums are COVID-19 hotspots and create a risk of getting sick that, in the grand scheme of things, is unnecessary, and causes more harm than good. 
As unfortunate as it may be for fans, viewers and spectators, watching from home must become the only normal for sports this year, at least. If it's too dangerous to ride a bus, or send kids to school, why would going to a sports game make any sense?
While safety for fans is the biggest concern, the players may also be at risk. On top of travelling, training, and competing, it seems unfair to also expose them to fans. Even though they are well spread out, large gatherings make it easy for an airborne virus to spread, even beyond just 6 feet. Though slim, the chance still exists, and precautions must be taken.  
All across the country, we've seen games get cancelled or postponed due to COVID-19 outbreaks. The NFL has had the most recent – in the last few weeks, they've rescheduled games for eight teams, including the New England Patriots and defending Super Bowl champions Kansas City Chiefs. 
The leagues with the most success are in bubbles. The less positive cases that a league has, the more successful their COVID precautions are. The basic principle of a bubble is a facility where all the players and coaches remain in one area to prevent contaminating or getting infected by someone outside. 
The NBA and NHL both spent the remainder of the 2019-2020 season in a bubble – from the restart (in July) up until the end of the postseason. Both leagues are likely to continue their next season in a bubble as well.  
"We had zero positive tests for as long as we were here, 90-some days, 95 days maybe for myself," Finals MVP Lebron James said in a post game interview. Both leagues got through the season and postseason, with the Lakers winning the NBA finals and the Tampa Bay Lightning taking the Stanley Cup. 
Major League Soccer also hosted a bubble tournament in Florida right after the COVID-19 break. They reported no positive tests as the Portland Timbers took home the 'MLS is Back' trophy.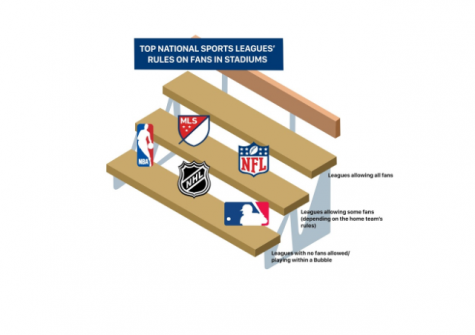 The thing is, bubbles work, and should be implemented by every league. Some leagues however, either don't want to, or can't implement it for a variety of reasons. These leagues must attempt to recreate a bubble the best they can. Limiting travel is impossible, but other things, like constant cleaning is. No bubble? The next best thing is to not have fans at games. 
Additionally, having varying fan rules causes inconsistency that hurts games. When put next to arguments regarding the health and livelihoods of players, coaches and fans, it seems almost irrelevant, but it's not. For the leagues that are allowing teams to have fans, the final decision is completely determined by the state's protocol. No fans are allowed in any stadiums in California, Oregon and Illinois; however, in Utah and Texas, fans are welcome. This is based on the COVID-19 protocol put forward by the states' governors. 
These inconsistent fan rules create an unfair advantage for some home teams.. To make it equal, no team should have fans, because fans allow for the home field advantage. For example, the Chicago Bears and Carolina Panthers played on Sunday, October 18. The Panthers will have fans at a limited capacity to cheer their team on. The Bears' next home game will not have that same home advantage. 
In fact, teams with no fans at home have performed extremely well as the Steelers and Packers are yet to lose at home. Potentially the lack of distraction may help them do this. The point is, inconsistency is negatively affecting results since the teams are facing different conditions in each game. 
This inconsistency may seem minor, but nonetheless, it's unfair, on top of being unsafe. If the safety threats don't convince you, then maybe this will: our Illinois teams are at a disadvantage at every home game because no Illinois-sports-fans are allowed.. 
Fans in stadiums is a clear issue – for safety reasons (mostly) and some reasons that affect the season's results. For the sake of players, coaches and teams, there should not be live attendance fans at sports games. 
You may have heard this before: stay home, stay safe and encourage others to do the same. Eventually, we'll be cheering on our teams from the stands, instead of from our couches.