Back to school… in October
New Trier begins transition to in-person learning, Stevenson remains online.
On October 6, Said Aydin '23, a student at New Trier High School, entered the building for the first time in months for class. Six days later, 11 students had tested positive, and Aydin, and all other New Trier students, were back in a remote learning environment.
At the recommendation of the Lake County Department of Health, New Trier is just one of many schools that are pausing hybrid instruction as COVID-19 cases in Lake County continue to rise. At Stevenson, plans to implement some aspects of in-person learning have also been stopped due to rising case numbers.
"It feels out of order because we've been doing remote learning for so long and now you are immediately being transferred into doing two days every few weeks in school," Aydin said. "It's weird."
New Trier took many precautions in advance of students returning. Principals Paul Waechtler and Denise Dubravec released a statement to families and faculty explaining what New Trier had done to prepare for in-person instruction and why they were ready to open.
"We have made numerous changes at both campuses to protect the health and safety of everyone in our buildings, including upgraded filters in our ventilation system, protective barriers in classrooms and offices, tents and designated areas for lunch and free periods, health screening, signage and additional safety measures," Waechtler and Dubravec said. 
In New Trier's hybrid model, students spoke to their teachers from their individual desks while still being logged onto Zoom in order to include classmates who were learning remotely and to see the teacher's screen. Aydin considered this scenario almost counterintuitive but still worth it to be in class physically.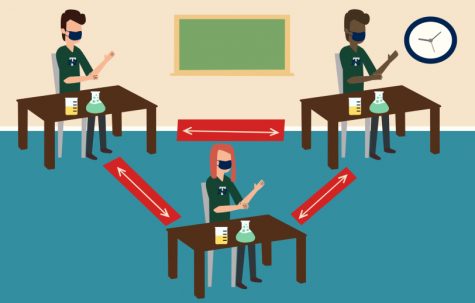 "I got to meet some of my teachers and there was more bonding than over Zoom," Aydin said. "It was more interactive because you could ask questions without much difficulty." 
At New Trier, students were separated by last name, and would go to campus for two days, every three weeks. For Aydin and other New Trier students, this was an interesting schedule to adjust to while still being in remote learning.
"It's very strange because you go to school for two days and then for three weeks you don't and then you go for two more days," Aydin said.  "I packed up all my stuff for school, but then I came home and had to unload all of that for 3 weeks."
However, this does not mean all risks are eliminated. After going to school, Aydin felt that students weren't heeding to the social distancing guidelines sufficiently enough.
"You see people socially distancing from each other when sitting down because the seats are arranged that way,"Aydin said. "But you have more freedom as you are walking to classes and people naturally get closer, because they want to speak to their friends and there's more people in the hallways. Social distancing is one big thing that should be looked into and enforced more strictly."
New Trier opened with hopes of enabling student interaction, more effective teaching, and to take one small step towards a more normal school environment. Stevenson had hoped to invite students back on to campus even if it was only small groups, but like New Trier, those plans were paused by the recent news of COVID increases.
"In order to be able to keep our campuses open and bring students together for instruction and extracurricular activities, we are relying on the entire New Trier community to maintain safe practices," Superintendent Paul Sally said in a statement to students and families.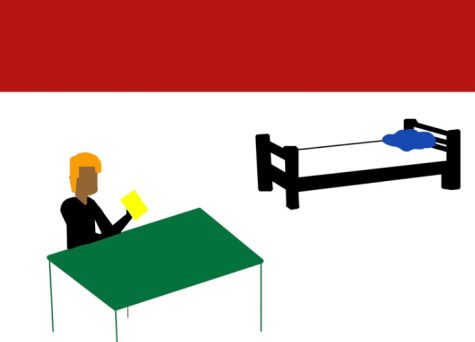 Stevenson has been constantly updating their plan for reopening. Many students are more than eager to go back, wanting to see friends, learn in person, play sports, attend school events and just walk from class to class. One student in particular, Kate Hanna  '21, is ready to go back to school and learn in-person.
"I learn better through in-person learning and I perform better on tests," Hanna said.
Within the past weeks or so at Stevenson, many students have been coming in for a multitude of reasons, some of which include ACT, SAT, PSATs and extracurricular activities. Stevenson was also willing to create a school-like environment within the building by creating pods of eight students, Patriot Pod, but this plan is currently paused due to increasing cases.   
According to Hanna, "I think I along with many other students are ready to see what Stevenson has coming whether that's more online learning or in-person."