Rebuild and Renovation
Stevenson adapts classrooms, athletic facilities during COVID-19 pandemic
Portions of buildings are left virtually unrecognizable as they enter their own version of a cocoon: construction. After several months, what emerges isn't a revamped and rejuvenated butterfly; rather, it's elements of Stevenson's campus taking flight.
Each summer—and sometimes during the school year—Stevenson's facilities undergo maintenance projects and other regularly scheduled renovations in order to keep the school up-to-date. 
This year, blueprints detailed changes that had been planned for months and even years — namely renovating numerous athletic facilities — as well as modifications specifically in response to COVID-19.
Assistant Superintendent for Business Sean Carney explained that many projects' timelines were not expedited in spite of students not being present during the school day. However, he underscored that the pandemic actually may have saved Stevenson funding due to eliminating certain construction shifts.
"I would say it didn't necessarily move the timeline up, but what I am confident in saying is that it prevented us from having to use second shifts, which cost us more," Carney said. "A lot of times, we use a second shift to do work from, let's say, 2:00 to 11:00 at night, but then I have to pay those employees more, so it costs us more for the project. But because we're not doing second shift, I don't have to pay as much."
Another way in which COVID-19 impacted renovations can be seen through the implementation of new safety measures to ensure that CDC guidelines are followed when individuals are physically on campus. In particular, Carney mentioned the installation of plexiglass barriers around teachers' desks and between student spaces at tables as well as changes to Stevenson's air filtration system.
Construction will likely impact students beyond just the classroom. From the renovations of the Stadium as well as the Field House, and even a new creation of an outdoor theatre, all students may have something to look forward to.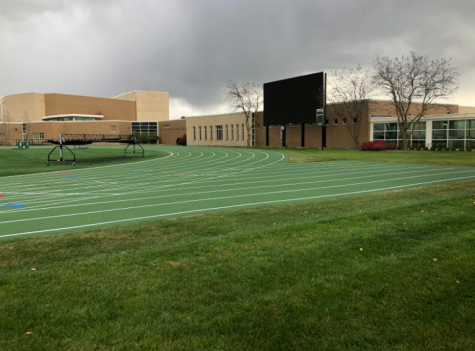 Athletic Coordinator Jeffrey Blezien is excited for students to see the new improvements to the Stadium, specifically the completion of the new turf, track and scoreboard. 
"We got a new scoreboard a few years ago that has the capability to do video in the Sports Center, and now we have that in our Stadium," Blezien said. "That's gonna be really exciting for our athletes, especially when we get back to having fans in the stands, hopefully in the spring." 
Although work on the Stadium has neared its completion, the second phase of the Field House is not set to be completed until August 2022. Along with a new 200-meter track and basketball and volleyball courts, the Field House is set to provide more recreational and performance spaces for athletes, trainers and the entire student body.
"The addition of the new weight room, a small turf field, some cardio equipment and an area for our group fitness classes to do yoga that is a covered outdoor area," Blezien said when asked about other installations.
Blezien explained that one of the most important factors of the new addition to the Field House is how it will provide more options to all students. He hopes students will use the new facilities to exercise instead of going to spend money for memberships at places such as Life Time Fitness in Lincolnshire.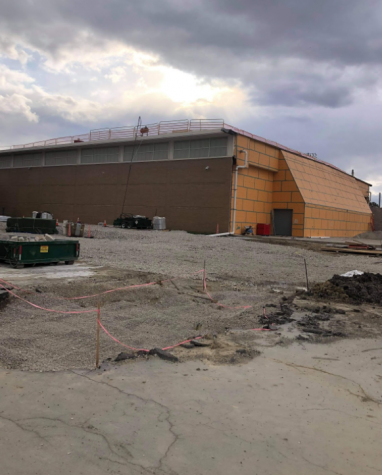 Aside from athletics, other clubs will benefit from construction projects completed as recently as several months ago.
Situated right behind the bleachers of the stadium is an outdoor theater created in September by students, where those in the theatre program have completed most of their filming and production creation thus far.
The theatre was built outside in order to mitigate the spread of airborne COVID-19 particles, and social distancing practices have been implemented. From wearing masks and gloves at all times when not filming to providing clear masks when on set, students are working with Stevenson to prioritize safety. 
One member of the crew team, Heather Acuña '2l, said the outdoor stage offers some semblance of normalcy. The addition of the stage has made the experience better than the Zoom experience of the past seven months. The theatre program is not only excited to perform two upcoming performances—Newsies and OLIVÉRio—but also have been happy to just be back on campus. 
"I'm excited to be back [for outdoor plays], definitely," Acuña said. "I like going back to Stevenson."
As with any of the new changes that have come, students and faculty in the theater department have adapted to their different surroundings. In particular, they have learned how to make adjustments in order to continue to produce their performances.
"It's been a bit of an adjustment, weather has been a bit of a thing, but we are learning," Acuña said.
Regardless of whether modifications benefit athletics or clubs, Stevenson's campus is likely to appear significantly different whenever students return—as well as in future years, when enrollment is expected to skyrocket. 
Just this summer, projects included replacing a centralized pipe that spanned the Lower Sports Center Lobby and moving it outside to avoid school-day interruptions; overhauling the main journalism room, located in Room 2712; renovating bathrooms in the 1300s and 1600s hallways; adding an outdoor patio near Principal Troy Gobble's office; repaving sidewalks and walkways, including outside of The Point; implementing larger gray signs denoting parking lots; and replacing carpet in the West Building.
For Carney, construction projects are not just about providing benefits to and accommodating all students and faculty, but also for building for the future of education.
"When we do construction projects and renovations projects, we want to make sure that what we're building is going to last for many years to come," Carney said. "We always are constantly thinking about, 'Well, what is that classroom of the next decade going to look like?' How is the delivery of instruction going to change over the course of the next 30 years so that when we build a classroom, we don't have to make changes to that classroom because it already meets the needs of our students and our faculty?"