Mail-in Mayhem
Information to know about mail-in voting in Lake County, thoughts from a member of SHS Political Action Club.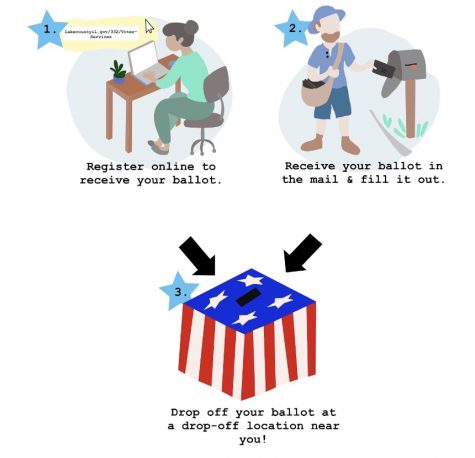 As a result of the COVID-19 pandemic, protocols for mail-in voting have been put into place in Lake County in order to provide a safer alternative to in-person voting. All states across the U.S. are providing mail-in voting as an option for this year's upcoming presidential election.
Lake County is accepting mail-in ballots for the 2020 Presidential Election that have postmarks no later than Nov. 3. Hand-delivered ballots must be dropped off to the Lake County Clerk's Office by 7 p.m. on Election Day (Nov. 3).
Voting by mail allows voters to track their ballot in order to ensure that it is counted on election day. Voters in Lake County can visit Voter Power to do this.
However, some voters also anticipate the multi-step mail-in voting process to be more complicated than   usual. Political Action Club member Mikayla Varghese '21 emphasized how carefully filling out the ballot and making sure that one meets all deadlines is the only way to ensure that their vote is counted. 
"There's so many nuances about mail-in voting that can make it kind of difficult to get your ballot in on time," Varghese said. "For starters, if you fill out your ballot incorrectly, say your name, your address, or you put something in the wrong box, then your ballot is automatically disqualified and will not be counted to vote."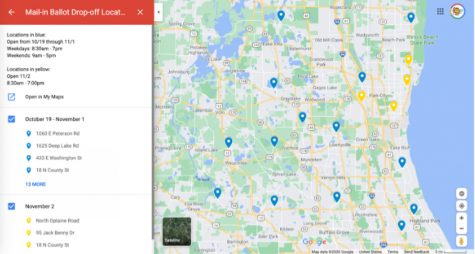 In order to avoid as many of these problems as possible, there are precautions voters can take. Varghese suggests a few measures voters can take to stay proactive during the voting process.
"For starters, make sure to mail [your ballot] at least two weeks before Nov. 1," Varghese said. "And then be sure to read your ballot very carefully."
Another possible issue with mail-in voting is a delay in election results. Despite this concern, Lake County ensures locals that all mail-in ballots will be counted on time. 
According to Lake County Clerk Robin O'Connor, mail-in ballots received before Nov. 2 will be counted and results will be known by Election Day after polls close. However, ballots with postmarks until Nov. 3 will still be accepted, per the Chicago Tribune. 
"No one can see the results before election night, only the number of votes by mail ballots," O'Connor said. "Vote by mail ballots received on Nov. 3, or processed and added to the election night count through Nov. 17." 
For young voters looking to vote through mail, these possible problems can seem daunting. Varghese describes how this can be resolved through better education facilitated by the County. 
"As far as I know, there isn't any formal education coming in from the County," Varghese said. "However, [Political Action Club President] Isabel Perlin '21 and I are trying to get that information available in libraries. We are trying to contact libraries in order to hold a quick talk not only about mail-in voting, but also voter education."
In addition to education on how to vote by mail, Varghese also advocates for better education on the importance of voting in general. She believes at the end of the day, it is important to remember the civic duty U.S. citizens have.
"I think that more than anything, it's about getting young voters to understand A: that the things that we do right now affect us for the rest of our lives and that we should be conscientious of that," Varghese said. "And B: to an extent it is our civil duty. We, as people, should be contributing to a democratic system, as it's something that has heavily benefited us since the day we were born." 
Ultimately, Varghese argues that the most important thing eligible voters can do is to vote. Even if it requires some extra time to get to know the candidates on your ballot, she finds that the end result is certainly worth it.
"Vote! If anything, if you are over 18, haven't committed a felony, and are a U.S. citizen, I highly encourage you to vote," Varghese said. "I think that you don't just owe it to yourself, you owe it to your friends, and who you care about. As a younger generation, we do have an influence on politics, and we do have an influence on our future and the future of the people we care about."