Bone Appetit: Fifty of the Most (In)famous Halloween Candy
Two Statesman staffers rank best, worst Halloween candy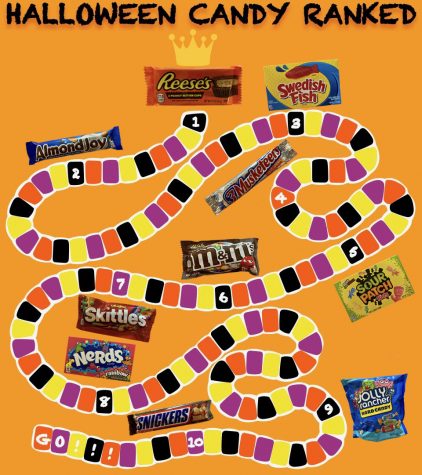 Candy is an integral part of Halloween, especially when it comes to trading with your friends after a successful night of trick-or-treating. Unfortunately, it goes without saying that some types of candy are far superior in comparison to others. To make it easier to know which candy to keep and which to "trick" your friends into trading for, we have ranked fifty different types of Halloween candy from best to worst.
Love At First Bite
Reese's Peanut Butter Cups: Creamy peanut butter fills the inside of a chocolate cup, making it simply the best candy ever. Delicious and tempting, Reese's Peanut Butter Cups are sure to satisfy your sweet tooth. 

Almond Joy: Almond Joy has sweet and salty elements that make it top two. The saltiness of the almond combined with the sweetness of the coconut and chocolate makes it irresistible.

Swedish Fish: Although they were not actually created in Sweden, Swedish Fish are a delectable, chewy candy that can be enjoyed in both small and large sizes. While the most common type is red, others such as green, yellow and orange are a fun treat as well.

3 Musketeers: Yet again the creator of Mars Bars created another candy that is a hit: a 3 Musketeer. With a fluffy nougat inside that resembles marshmallow fluff and a chocolate coating on the outside, the candy is tempting and always has people running back for more.

Sour Patch: The embodiment of an everlasting conflict between sour and sweet. Sour Patch Kids bring you the best of both worlds. Initially sour and then dissolving into sweet satisfaction, Sour Patch Kids' five iconic colors will make your mouth burst with flavor. 

M&Ms: Shiny button-like chocolates that are the colors of the rainbow, M&Ms are definitely worth a try. They melt in your mouth and there's a perfect mix of a crunchy shell with soft chocolate. 

Skittles: With five different fruity flavors, Skittles are a perfect bite-size treat. Whether you choose sour, berry or the sacred original red package, you will not be disappointed when you mix those flavors.

Nerds: Nerds are a unique kind of candy, shaped like little pebbles. Delicious and easy to eat, their flavors range from strawberry to cherry lemonade, making it a fun treat.

Jolly Ranchers: Although many refer to Jolly Ranchers as a choking hazard, as long as you use your common sense, these hard candies are an absolute treat. With all-around popular flavors such as cherry, blue raspberry and green apple, nothing makes you feel like a kid more than staining your tongue with the flavor of a Jolly Rancher.

Snickers: A delicious mixture of caramel, nougat, peanuts and chocolate, Snickers deserves its spot as number ten. The classic candy makes you always want more. 
Spooktacular Second Place Candies 
SweetTarts: A classic candy since the 1970s, SweetTarts are the best way to satisfy your cravings. The multi-colored candy includes both sweet and sour flavors, making it a fan favorite. 

Sour Patch Kid Watermelon: A fun, fruity twist on regular Sour Patch Kids, Sour Patch Watermelon are exactly what they sound like: Sour Patch in the form of a watermelon. The candy takes like both sour and sweet watermelon, making it a hit.

Kit Kat: Delicious wafers layered in a creamy milk chocolate are a good way to fulfill one's chocolate craving. A tip to make Kit Kats taste even better than they already do – put them in the freezer. Thank me later.  

Milky Way: A smooth milk chocolate coating covers a tasty inside that consists of caramel and chocolate malt. No wonder it sells over 80 million bars a year. 

Life Savers: While many may forget Life Savers' status as a candy or choose Jolly Ranchers instead, these small, ring-shaped candies are always there when we're having a bad day. With a variety of fruity flavors, Life Savers deserve more attention than they're already given.

Airheads: Airheads have all the fruity flavors imaginable, which makes it appealing to many kids and tweens. Ranging from cherry to grape to even white mystery, Airheads are a chewy treat. 

Crunch Bar: Often overlooked in comparison to the crunchy goodness of Kit Kat's, Crunch Bars are an excellent choice for chocolate lovers. Made with crisped rice mixed into milk chocolate, Crunch Bars add a loveable twist on the traditional chocolate bar.

Starburst: Another fruity, chewy option that many love. While there are basic flavors such as lemon and orange, there are many varieties ranging from sour to tropical. However, their smaller size in comparison to Airheads put them lower on this list. 

Candy Corn: An absolute Halloween classic! Although it is an acquired taste, candy corn truly can be enjoyed throughout the entire year.

York Peppermint Patties: With this candy, you're sure to get a mix of two different flavors that work well together: mint and milk chocolate. Refreshing and sweet, this candy is a hit. 

Tootsie Pops: Tootsie Pops add a fun twist to the traditional lollipop by adding a delicious chocolate core at the center. Although some of the most popular flavors include cherry, orange and chocolate, there are many others to choose from such as raspberry and banana.

Mounds: Calling all Almond Joy lovers: this is the candy for you. A mound is the same thing as an Almond Joy, just without the almond. Although it is not as delicious as the original, it is definitely worth a try. 

Junior Mints: While they are not as appealing as York Peppermint Patties, perhaps because of their smaller size, junior mints still prove to be a delicious choice for anybody who loves a chocolate and mint combination. Who says mint is only for toothpaste?

Dots: Chewy, colorful and with five different fruity flavors, these button-shaped candies are perfect for anybody who enjoys delicious candy with excellent texture.

Rolos: If you love caramel and chocolate, this treat is most definitely for you. Wrapped in gold foil, Rolos not only taste good, but they also look good. 

Hershey Bar: While this chocolate is definitely plain compared to the other chocolate treats, sometimes simplicity is better. Hershey Bars consist of a silky milk or dark chocolate that melts in your mouth. What's not to love?

Mike and Ikes: These small, pill-shaped candies are more or less the inferior version of Dots. Although their flavors are similar, Dots' larger size and more appealing texture mean that Mike and Ikes are lower on this list.

Smarties: Smarties are great if you're looking for a knock-off brand of SweetTarts. These are a great option for feeling nostalgic of elementary school, with their chalky texture and multi flavored capsules. 

Ring Pops: If you're looking for a candy to stain your tongue for hours on end, this is the candy for you. The fact that you can use the candy like a ring appeals to many younger kids, but since it is made of pure sugar, it has a lower ranking on this list. 

Dove Chocolate: While this is not as good of chocolate as Hershey, Dove Chocolate is close behind. There are so many flavors to choose from – raspberry, dark chocolate, caramel, sea salt and the list goes on. This is a perfect choice for chocolate lovers.

Twix: Another chocolatey favorite. Milk chocolate encompasses a sweet biscuit and sticky caramel, which creates a yummy treat. 

Laffy Taffy: While not as delectable as Airheads due to their smaller size, Laffy Taffy's are still an excellent choice for those who enjoy both chewy and fruity candy. With classic flavors such as strawberry, green apple, grape and the infamous banana, Laffy Taffy provides the perfect variety for any candy consumer.

Tootsie Rolls: For some reason, Tootsie Rolls chocolate just tastes better when it's on a lollipop stick surrounded by a savory fruity texture. However, even though Tootsie Pops are arguably better than Tootsie Rolls, Tootsie Rolls still remain an excellent bite-size chocolate choice.

Lemonheads: If you like sour and sweet candies, this is the candy for you. Don't be fooled, though – while Lemonheads seem as if they'd be completely sour, after a while they turn into a sweet, sugary treat that makes you want to keep coming back for more. 

Butterfingers: Butterfingers are a controversial candy for sure, you either love them or hate them. The filling inside the milk chocolate is not for everyone – hard candy mixed with peanut butter and confectioners sugar. Sounds kind of gross, right?

Peanut M&Ms: A twist on the classic M&Ms, this time with peanuts in the middle. These are honestly overrated, but if you like chocolate and peanuts, this is the perfect combo for you. 

Pay Day: Another classic candy that many adults love. Its peanut shell is held together by caramel, making this a sweet but simple treat.

Heath Bar: Once again this is a chocolate bar with a unique middle. Inside of a chocolate shell is an English toffee that's sweet and melts in your mouth. Although it's kind of plain, it's still worth the try. 

Reese's Pieces: Think of a Reese's Peanut Butter Cup in mini bites. Reese's Pieces are a twist on the original cups, and while they do not live up to the same standards, their mini capsules make them fun to eat. 

Twizzlers: Twizzlers, while potentially addictive, have the consistency of plastic. There is little to no flavor, and the only reason they sell is because of how much you're able to eat in one sitting.
Don't Go Goblin' Up This Candy (Trust Us – It's Disgusting)
Milk Duds: Infamous for destroying braces and fillings, Milk Duds can be described as a more risky version of Rolos. Filled with extremely chewy caramel, Milk Duds are not a candy for the faint of heart.

100 Grand: This bar is simply made of milk chocolate. While chocolate is a must, the size of the candy and the bland taste make 100 Grand boring. 

Baby Ruth: A classic candy once again, named after famous baseball player Babe Ruth. The bar has a chocolate covering which includes caramel, nougat and of course peanuts to pay tribute to the world star player.  Although the candy has a cool concept, its boring ingredients cause it to be ranked lower on the list. 

Mr. Goodbar: A boring mix of peanuts and chocolate, Mr. Goodbar doesn't have much to offer. If you're looking for this sweet and salty combination, I recommend peanut M&Ms instead. 

Fun Dip: Fun Dip might as well be called "cavities in a bag". While it is yummy, the stick used to dip in the pure sugar of the treat tastes exactly like chalk. How delicious…

Pixie Stix: If you're looking for a sugar rush, Pixie Stix is the candy for you. Packaged in colorful paper that looks like a straw, this candy is pure flavored sugar. 

Sprees: Resembling a flattened skittle and tasting just about as disgusting as one, Sprees are more or less a poor man's SweetTarts. With disgusting artificial flavoring and chewy texture, do yourself a favor and just choose Skittles.

Gobstoppers: You thought Milk Duds were dangerous? Unlike Milk Duds, Gobstoppers put you at a constant risk of injuring your mouth, regardless of whether or not you have braces. Hard enough to chip your teeth and with similarly disgusting artificial flavoring as Sprees, for the sake of keeping you mouth intact, avoid Gobstoppers at all cost.

Poprocks: Poprocks deserves a hazard warning on the packaging. If you're looking for your mouth to hurt after eating and candy that pops like fireworks in your mouth, try these. 

Hot Tamales: These are at the bottom of the list for a reason – they are spicy candies that are supposedly cinnamon flavored, but it tastes nothing of the sorts. You might as well just take a shot of hot sauce instead.