Restrictions on Recruiting
With COVID-19 causing continued modifications to fall sports, athletes and coaches alike wonder how this will impact recruiting for the class of 2021.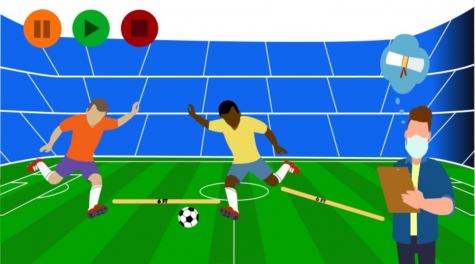 In the fall of 2019, Anthony Skordilis '21 was practicing and playing games after school essentially every day as a member of the Stevenson Boys Varsity Soccer team. Now with COVID-19 having changed how high schoolers can participate in sports, Skordilis spends only two days a week on the field with his team.
All of this was a result of the July 2020 announcement from the Illinois High School Association (IHSA), which stated some fall sports, such as boys' soccer, football, and girls' volleyball, would be postponed to the spring due to COVID-19. This turn of events has raised concerns as to how senior athletes like Skordilis, who are looking to get recruited, will get the same exposure to recruiters that they would have gotten in any other year. Many of these athletes now rely on the club they play at to find opportunities to be noticed by college recruiters. 
As a member of both a local club team and the SHS team, Skordilis notes that the practice schedules for the two are different. At Stevenson, the team practices twice a week with COVID-19 screenings and mask protocols, but they are not allowed to compete. Through his club team, however, he is on a "normal" practice schedule, even being able to play games for certain recruiters in July. 
Despite these restrictions created by officials from IHSA, there are still ways that athletes can gain access to recruiters. Tricia Betthauser, the Stevenson Athletic Director, explains some of the steps athletes are taking to do so.
"Most of our athletes who are ambitiously pursuing opportunities to compete at the next level are also working on their skills with a travel or club organization, and many of these organizations are under a different set of expectations for competition than high school sports under the Governor's ISBE All Sports Policy," Betthauser said. "So, thankfully for them, a majority of these athletes still have places where they can be seen and are getting the exposure they desire."
The All Sports Policy is a part of Phase 4 of the Restore Illinois Plan. This plan determines the level of risk each sport poses to players, and sets a timeline for how and when schools and teams can resume play and practice. 
Although athletes are still able to practice, they are unsure about how recruiters will be able to see their performance. Head Girls Tennis Coach Alexxis Kiven believes that colleges will most likely have to adopt new ways of recruiting with technology being a big asset in the process.
"I think that [universities] are going to do everything that they can to make it possible for senior athletes to get whatever exposure that they would have had," Kiven said. "Obviously [recruiters] are not going to be able to watch as much as they would have liked but I think that they will get creative, there are ways [athletes] can send in videos."
Skordilis has taken advantage of this opportunity to get into contact with coaches from schools which may be unable to see him play in person. He says he has done this primarily through emails, which his coaches, both from his club team and the Stevenson team, have helped facilitate. 
"I was emailing coaches and sending highlight videos, or full game videos from before," Skordilis said. "We'll email the college coaches and CC our coaches. If the college coach has any questions, they'll reach out to your high school or club coach to ask about you." 🎃
The main reason Skordilis is emailing coaches, especially for Division 1 schools, is because of an NCAA rule suspending in person recruiting through January 1, 2021. Coaches are still allowed to recruit over email, but in-person meetings are not allowed through this "dead period."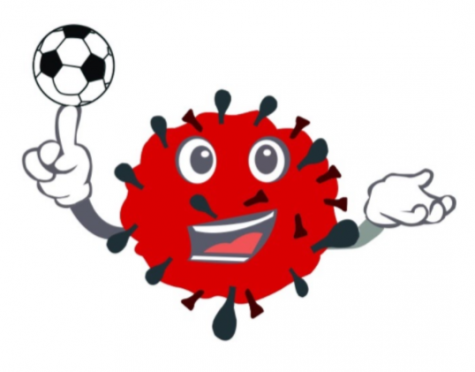 The season in which athletes are getting scouted is changing as much as the ways athletes choose to contact college recruiters. For soccer, athletes usually get recruited through games played with their club teams starting in the spring of their junior year, but for the class of 2021, many of those spring games never occurred. Specifically, some club teams, like Skordilis'  are planning to start games in late October due to COVID-19 restrictions and play indoor games that recruiters can watch through the winter.  
In addition to the recruiting time frame being postponed, recruiting deadlines for some fall sports have also been postponed—not only for high school seniors, but college freshmen as well. This deadline outlines when athletes need to be committed to their school and when colleges are no longer allowed to recruit athletes.
"They might push that deadline back for us to sometime in July 2021, it depends if colleges can fill out their roster or not," Skordilis said. "For my class, we're in a rough spot, because they're giving freshmen who were going be on the college team an option to take a gap year because they wouldn't have a full season."
Skordilis believes that since current college freshmen are now given the opportunity to take a gap year, the amount of spots available on teams are shared between college freshmen and high school seniors, leading to more competition this recruiting season and adding yet another way athletes' plans must change this fall. 
As much as students and coaches have adapted to a changing fall season for college recruiting, a lot of uncertainty still remains, especially for athletes in the class of 2021. While athletes are still unsure of the future due to existing concerns related to the spread of COVID-19, Skordilis believes only time can show the impact of these changes. 
"If we can't play any competitive games, then we're really losing out," Skordilis said. "But if there's a span of time between late October and January when we're playing a decent amount of games we would still have a chance to get recruited by late May or early summer."