Movie Theaters vs. Online Movies
Two Statesman staffers discuss the costs and benefits of watching movies at theaters versus at home.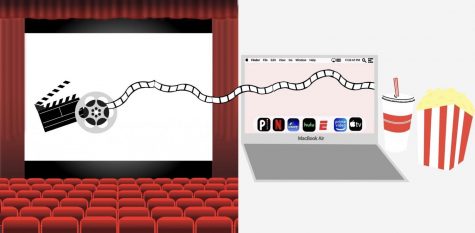 Movie theaters reopen as a safe place return, with fortified safety precautions against COVID-19 
The surge of excitement in that split second of pure darkness before the movie starts, surrounded by the buttery scent of popcorn and the soft murmurs of a buzzy audience, is something you can only experience in a movie theater. Unfortunately, the definition of "movie-going" has recently diminished from such a lively event to a private practice. 
Although the thought of real movie-going may occur less often to people these days, reopening movie theaters stand a safe place to return under fortified safety precautions.
Recently, movie theaters have worked on improving sanitation and safety in preparation for reopening. Many places now require that masks be worn all the time — except when drinking or eating — and are blocking out seats to allow social distancing between viewers.
In particular, AMC has invested millions of dollars into what they call "high-tech solutions," such as MERV 13 air filters and an electrostatic sprayer, to further prevent the airborne transmission of the virus. 🎃 I think it is reasonable to take their actions as an acceptable marker of assurance that movie theaters are a safe place to return to. 
Beyond the obvious advantages of a bigger screen, ultrasound system, and quality concessions at hand, I miss the movie theater's long-forgotten excitement. While I'd admit that I defaulted to online streaming services like Netflix during the quarantine due to the lack of an option to go to a theater, I would definitely seek to relive the real experience of movie-watching now that the theaters are reopening.
There's no doubt that the quality of the movie-watching experience exponentially increases in the setting of a movie theater as opposed to an isolated island of bedroom. As long as people adhere to the safety policies, like wearing a mask and keeping social distance, movie theaters should not be considered a risk: rather, they have proven themselves to be a place to return with a higher level of safety protocols implemented. 
Movie theaters should be avoided at all costs, as they are too risky and too tedious to be worth it.
Everyone would agree that going to the movies is a relaxing and enjoyable experience where you can sit back, relax, and, of course, guiltlessly stuff your face with popcorn. But amidst a worldwide pandemic, the smarter decision is to stay home. Not only will this spare you from the many hassles that come with the experience, but it will also better protect yourself and your community.
We all know that we should avoid going out into public places whenever possible these days. Despite health officials urging us to stay home, many have forgotten the enormous repercussions of going out — and as a result, the virus continues to spread rapidly. But with proven data from top-notch scientists, we must comply wholeheartedly with all the rules to lessen the impact of COVID-19. 
Such a collection of important data was published by the University of Illinois at Urbana-Champaign this past summer. Their calculations suggest that a person with coronavirus will, on average, transmit the disease to 2.2 other people. Although this may not sound like much, after ten cycles of this, approximately 3,300 people would contract the virus. Suppose even one person in the movie theater carries the virus — whether it be a worker, a janitor, or a fellow theatergoer. In that case, they run the risk of infecting so many others when they just as easily could have stayed home.
Plus, the very nature of movie theaters increases your risk. As they are entirely indoors, filled with people, and have little ventilation, movie theaters are most definitely not the safest environment. And since movies run for two or three hours, you're spending way more than the recommended time with others — which, according to the CDC, creates a greater risk of catching COVID-19. In spite of all the preventative safety measures you can take, you can never be sure if others will do the same.
And who wants to spend their evening waiting in an endless line for tickets, avoiding the concessions, missing the opening scenes, and then finding seats away from everyone — all for a movie that's just a replay? And on top of it all is the nagging feeling that something isn't safe. We've had enough of that lately. Even just thinking about all the effort required is motivation enough for me to switch on Netflix. Staying at home nowadays is so much more practical, relaxing, and fun than going to the movie theater.