Covid Co-Curriculars
Students, staff adjust co-curricular events, clubs to remote learning setting amid COVID-19 pandemic
Under normal circumstances, the 3:25 p.m. bell would've cued thousands of students and teachers to flood the halls, unearthing a new, bustling side of Stevenson not seen during the school day. Clubs, sports and other co-curricular events are considered an integral part of the Stevenson experience, allowing students to build, lead and strengthen communities with those who share their same interests. 
Since the COVID-19 outbreak, there have been quite a few changes. Instead of rushing out of the classroom to make it on time to a club meeting, students are closing Zoom links and opening new ones. Adjusting to a remote setting has been challenging for students and teachers alike. In particular, students and staff must take on the challenge of continuing to build a strong, welcoming community and attempting to maintain a sense of normalcy, all while online. 
For Monique Furman '21, adapting to these adverse circumstances is something that she's become familiar with recently as a Student Director in the theatre department. 
"The community and bond you create with the people you work with is one of the most important components to a successful show," Furman said. "It's definitely more difficult to connect the same way or do our usual activities when you're socially distanced but we're all trying to be patient and work with what we have."
Despite the new environment, Furman and her fellow directors have been working tirelessly to plan different bonding activities in order to bring the cast and crew together both socially distanced and online, including creating "families" within the cast to encourage members to look out for one another.  
Student Council President Liana McGhee '21 has found herself in an unique predicament as she and her team continue their efforts to lead weekly meetings through Zoom. For her, the greatest challenge in leading a club with upwards of three hundred members arises in attempting to virtually communicate and problem solve with so many sub-committees. 
"Normally with so many people, little problems are bound to arise just because you have so many moving pieces at once but it's easy to directly go to someone and help," McGhee said. "These issues are more difficult to resolve online because we've had to divide our members into multiple Zoom calls to better help organize things." 
In an effort to resolve such communication barriers, McGhee and her leadership team have ensured that there is an officer present in each Zoom to help answer questions and guide meetings. 
While Student Council usually hosts large school-wide events such as Homecoming, Winterfest and pep assemblies with the aim of fostering connectivity and community within Stevenson, due to social distancing guidelines, these events won't be possible this year. Rather, McGhee and her team have redirected their attention to creating smaller, more personal experiences such as virtual baking competitions and movie nights to reach different groups of the student body.
Similarly, instead of the usual live performances the theater department hosts throughout the year in Stevenson's auditorium, this year's fall musical will be entirely adapted into film and available to view for an online audience. However, rather than getting discouraged at the new set of challenges presented, Furman has seen this as an opportunity to explore new methods.
"I think it's exciting that we're going to get an experience that no one else has had before," Furman said. "No one has really been on a movie set before because we've always done a live musical performance, it'll be really cool to see the final product."
McGhee has echoed this and has found it helpful to tackle the year ahead with a mindset of growth.
"We all went into this year with just the idea that these things like Homecoming and assemblies are important, but they're not the end all be all," McGhee said. " At the same time, we have this new fresh perspective that we can really use to our advantage. So that's how we've been approaching everything and hopefully, we'll make some degree of change this year." 
Similar to Student Council, National Honor Society, a club with upwards of 800 students works to build up Stevenson's community through widely popular community service events such as Streetfest and Give-a-Thon. However, this year, they're aiming to break these large community service events into several smaller, safer events and activities.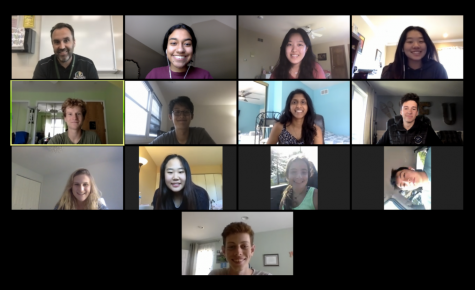 NHS sponsor Brett Erdmann believes that, in a remote format, students may even be more inclined to take their own initiative in participating in and leading community service projects. 
As numerous national and global crises continue to shake the world, including the COVID-19 outbreak coupled with civil rights protests following incidents of police brutality, Erdmann believes that now, more than ever, people are aware of aspects of their communities that need involvement and help. 
"Peoples' eyes have been opened to the fact that there are all sorts of problems in the world that can be helped through service efforts," Erdmann said. "It's almost like an awakening."
In light of such serious discussions nationwide and the prevalence of certain social issues connecting directly to Stevenson, McGhee and her fellow Student Council leaders recognize the need to consolidate the student body and encourage action for change. While still in the works, McGhee hopes to work with LeViis Haney, Stevenson's Equity, Race and Diversity Director, to bring together club and community leaders and encourage unity.
"With so many clubs, we just realized that if each club was individualized in their efforts, there would be a lot of crossover, there would be a lack of communication, certain goals might not align well with other goals and it would be difficult to bring about action," McGhee said. " So right now we are trying to create a forum so we have a space to sound out ideas and collaborate in our efforts to use our club resources to create a change for the better at Stevenson."
Despite the broad scope of extracurricular activities at Stevenson and the unique challenges some face, Erdmann acknowledges that students and faculty are eager to jump at opportunities to unite and grow together, a defining factor of the Stevenson community.
"I've been surprised by how resilient Stevenson students are," Erdmann said. "They roll with the punches; they see the challenges; they come up with solutions. I've been heartened by the fact that teachers and students want to do good and jump in. No one is giving up."
Case in point, McGhee, Furman and students throughout Stevenson have done their best to be epitomes of such resilience, stepping up in their respective roles as leaders in an effort to create a more fulfilling experience. 
"You know what they say in theatre," Furman said. "The show must go on."