Teaching Amid COVID-19
As the school year starts, staff members prepare for another semester of Remote Learning
While students were able to kick back and take time off for summer break, staff members stayed busy—not only in preparation for the back-to-school season but also to adjust to the new Remote Learning format. During these past few months, they've been working to develop lesson plans fit for Zoom class sessions.
Following unprecedented news that Stevenson would close for two weeks in March and eventually the rest of the school year due to the COVID-19 pandemic, staff members scrambled to adapt. By July, Stevenson had announced there would be full remote-learning for the rest of 2020. Throughout the summer, staff members both met with department colleagues and worked on adjusting their lesson plans independently, squeezing 47 minutes worth of class time into 37. 
"If it's an activity that's going to be important and essential for students' learning, and if it took one day in the past and it takes longer to be just okay with that," English teacher Mark Patton said. 🎃 "It's nothing too revolutionary in my mind; I'm just being concise with my own talking, getting to the point, letting students engage in the work and the activities, and keeping things to what's most essential."
Patton went on paternity leave following his son's birth in March, around the same time Remote Learning started. Though there has certainly been a lot of discussion about the ways Remote Learning has changed people's lives, Patton has found the "nuts and bolts" of his lessons remain the same.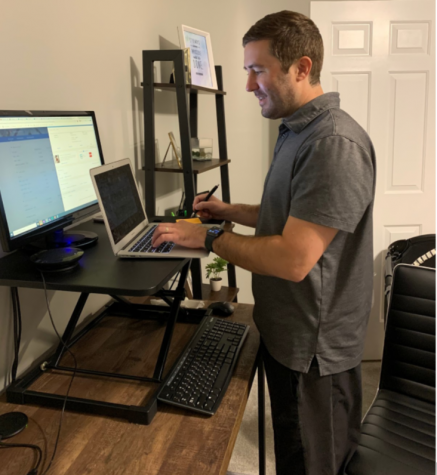 Last year, Michelle Gammelgaard focused on reviewing concepts before the AP exam in May. So far this school year, she has found the teaching process of Calculus BC and Geometry to be similar. Another thing that has stayed largely consistent for Gammelgaard is her daily work schedule. 
"My typical day if I were in the building would involve more social interaction and I'm lacking that," Gammelgaard said. "Otherwise, the logistics, I had meetings before school- I still have meetings. I'm teaching my classes. I have an off period—that's when I can get some grading done like I normally would, or if a student wants to meet and ask questions."
Currently, Gammelgaard has administered assignments by first posting them in Canvas, where students can work directly in or send it to Notability, and asks students to submit it back into Canvas at the end of the period. In the future, she is also interested in using Classkick, as students can work on the assignments right in the app and teachers can automatically view their work.
One of the largest concerns about Remote Learning is that it doesn't give enough opportunities for students to interact with one another. In both Gammelgaard and Patton's classes during a normal school year, students sit in groups of around three to five and frequently participate in small group discussions.
To help her students to learn about one another, Gammelgaard has played the game Three Truths and Lie. Patton has taken a different approach, with a Sophomore Accelerated English twist. At the beginning of the school year, he chose discussion topics that he felt pertained to students' lives.
Among other Stevenson supports include Student Services personnel, consisting of "counselors, deans, social workers, psychologists, college consultants." According to Assistant Director Sarah LaFrancis, the transition has been relatively smooth in part of Generation Z's built-in tech-savviness, helping them to easily use tools like Calendly to schedule meetings.
In addition to continuing existing programs, Student Services has added two new support groups to match the COVID-19 era. One helps students cope with stress related to the COVID-19 and the other is for students who have experienced loss due to COVID-19.
Despite these difficult times, teachers have cherished the small moments: Patton has been able to take advantage of the time at home by spending time with his newborn son. He's able to have lunch every day with his wife, who also works at home, and his son, something he wouldn't have been able to do in normal times.
"Seeing the passion and the drive of our staff to really do anything and everything to support students is a beautiful, amazing thing," LaFrancis said. "They care about kids and they want to help educate and support students. And on the converse of that, working with students over the summer and this year, I've seen how passionate they are about their education and the Stevenson community, as a whole."