D125 Night Market
Update on East Asia Project's first Night Market.
On February 29th, the District 125 community did not have to buy a plane ticket to travel across East Asia. Night Market — Adlai E. Stevenson High school's student-run festival allowed visitors to explore 15 cultural booths of countries ranging from Singapore to Brunei. 
"East Asia Project seeks to show the community the world of Asian street food and culture all under glowing red lanterns and a night sky," Dylan Chae '20 said. 
Chae, who started the East Asian Project four years ago, believes that this year has been the most successful. With over 800 community members who came to Night Market, they raised twice the amount of money from last year — a grand total of $2,400 for the National Asian Pacific-Islander Mental Health Organization. 
After visitors donate 50 cents for food tickets, they can enjoy a myriad of tasty dishes across diverse countries. For example, they can taste Sate Ayam Betawi, a Jakarta Chicken Satay made to order and assembled with banana leaves, and Ayutthaya, a hand-pulled silk candy stretched in front of visitors. Cultural games and activities, as well as student dance performances, were also a significant part of Night Market. 
Diane Bi '21, who not only danced in two performances but was also a booth volunteer, recalls her favorite memories from the event. "I really enjoyed making Laksa Lemak, a seaweed noodle soup and Kaya Toast, pandan spread on milk bread," Bi said. "Everyone had such a fun time helping with decorations and booths set up. We put up lanterns, fairy lights, and tulle and made paintings and menus."  
Even for those not representing a country, there is a positive atmosphere as everyone is trying the unique cuisines. When looking around, people are simultaneously chugging bubble teas, chopping on giant Chinese bao and chewing on lotus filled pork buns.  
"It's so heartwarming to see everyone just enjoying themselves, and I'm glad that people are coming out, willing to try the food," Chae said. "We see a lot of things happening in China or South Korea in the media, but once you start to understand the people and the culture, you gain a realization that at the end of the day we're all human — we share a similar narrative where we're just trying to figure out how to understand each other better."  
About the Writer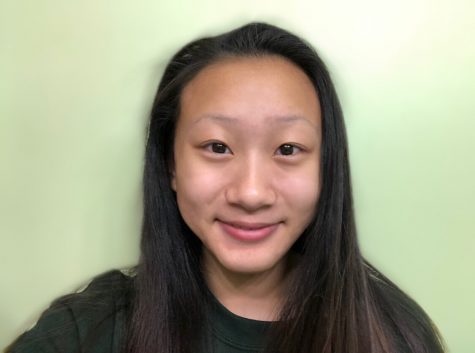 Lily Jiang, Managing Editor of Web
Lily is a senior and this is her third year on staff. Outside of Statesman, she's a passionate journalist, creative writer, competitive skater, and an...