Playing it Forward
Student Athletes reflect on college recruitment process and hard work.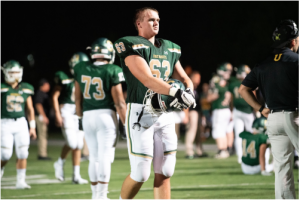 Ean Norenberg '20 steps out onto the turf as the bright stadium lights shine on him. The faint sound of the student section all dressed for the White Out roars in the background, and Norenberg and his teammates gather into a team huddle. Voices are being shouted over one another as a game plan is being decided on as they face their big rivals. The chilly October air wafts through their huddle, but the team seems to remain unfazed as they focus their sights on their personal goals of winning. As the referees blow the whistle, the starting players lineup on the football field and the game begins. 
Norenberg has been part of this unique Stevenson tradition since his freshman year of high school. Being on the Freshmen A team his first year, he was moved up to Varsity for playoffs and continued his varsity career from there. Ever since then, Norenberg has participated in the Friday night lights tradition, and just recently he announced his commitment to continue his academic and football career at Harvard University. 
"The process for recruiting was a long one," Norenberg said. "But without a doubt the work is worth it." 
Many dedicated student athletes at Stevenson eventually find themselves choosing to commit to playing their sport on a college level team, some being looked at from Division III to Division I coaches. Around 179,200 student-athletes in the United States commit to playing at a Division I school each year, making Norenberg one among them. 
The recruitment process may start at different points for student-athletes. Some start as young as freshmen year, while others wait until their senior year;  the process is long and difficult, but many athletes say the result is rewarding. Technically, athletes are not able to contact college coaches until their junior year of high school. Before this time, many athletes attend camps hosted by their preferred colleges and create recruiting profiles to gain exposure from various coaches.
"I would definitely encourage students to play in college," Jeffery Blezein, the Assistant Athletic Director said. "But there are a lot of different aspects student athletes need to consider on whether they choose to play in college."
Before beginning the recruitment process, many athletes consider aspects such as the school climate, academic programs and commitment level. 
College level commitments can be a difficult situation to handle as students must learn to balance tough practices, high level classes and maintain a social life. However, many athletes are up for the challenge. 
For Norenberg, the process began during his sophomore year. As football has been a part of his life for over twelve years, Norenberg was confident that he wanted to spend the next years of his life committing to the sport. 
"I messaged coaches, made phone calls, went to camps around the country, and kept working on my craft so that I could get better and better," Norenberg said.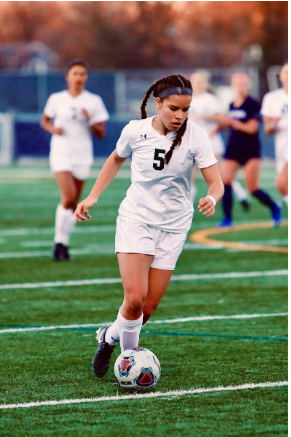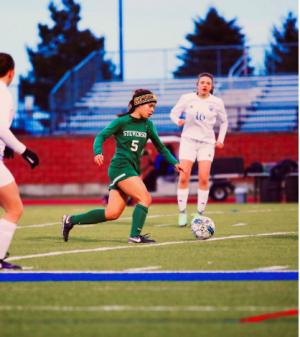 Just like Norenberg, Grace Wingfield '20  found her passion in soccer and made it her goal to eventually commit to a top tier college to play at the collegiate level. This July, Winfield verbally committed to continue her academic and athletic career at Northern Illinois University. 
"I knew that I wanted to play in college since I was little. It became a dream of mine and I continued to love the game," Wingfield said.
Wingfield had grown a passion for the game. Through the help of her club and school coaches, she was able to reach her dreams by playing soccer for NIU. 
The process, as both Hamburg and Wingfield mention, is long and challenging, but accomplishing their dreams makes the wait worth it. 
"I'm most looking forward to getting to play with all my future teammates while learning at the next level," Wingfield said. 
As athletes learn to play at higher levels of competition while also working with a new adversity of teammates, they quickly establish fundamental life skills, something that can't always be taught through everyday life. 
"Being a student athlete in college is like having two full time jobs with your academics and sports," Blezein said. 
As Norenberg looks through old home videos he reminisces about his childhood, as he begins to look towards his future. He stumbles upon an old one, a video of four year old Norenberg answering "Harvard," to "Where do you want to go to college?"
"From a very early age, my parents drove me to become a true student athlete," Norenberg said.