Opening Doors to Open Minds
Students learn about the human mind through interactive activities like hypnosis in the new Psychology Club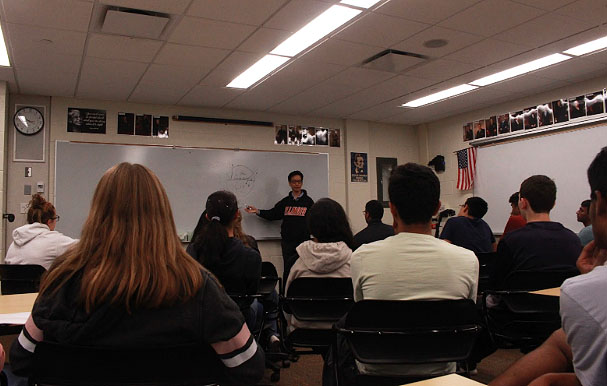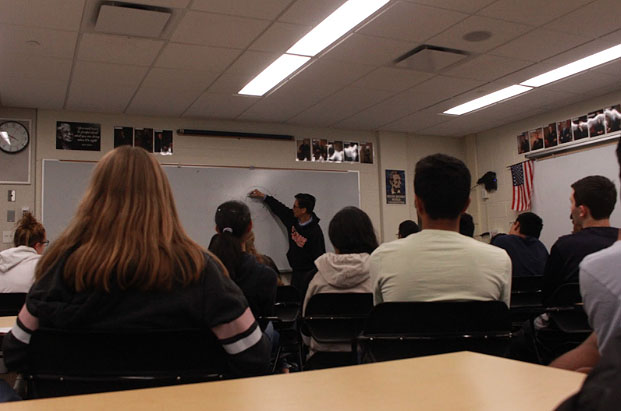 In the tranquil atmosphere, a few words of monochromatic tone float around the room. Students have their eyes tightly closed and appear to be sleeping, but they are just in another state of consciousness: their mind is under hypnosis.
Interactive activities such as hypnosis are common in Psychology Club. The club was newly created this year by Jasmine Sun '22 and Komal Talloo '22, who hope to provide students of all grade levels opportunities to learn about and experience various aspects of psychology.
"One of the biggest reasons that motivated us to create the club was that we were really interested in psychology, neuroscience and understanding of the brain," Talloo said. "But as freshmen, there weren't opportunities for us to learn about these things until senior year when you can take psychology classes. So we thought other people might be in the same position as we were and wanted to give them opportunities."
The club serves as a forum for students to not only develop their interests in psychology, but to also examine human mind in greater depth. Psychology teachers Caroline Shupe and Nancy Fenton, also co-sponsors of Psychology Club, regard the club as a meaningful addition to the available activities at Stevenson.
"We hope to aid students in their quest to be more compassionate and understanding of individual differences," Shupe said. "We are committed to educating students about mental illness and working to reduce the stigma that is often attached to mental disorders."
Rather than heavily focusing on lectures as in typical class settings, Psychology Club allows a broader spectrum of activities that involve more hands-on experiences. Recently, the club had a guest speaker to demonstrate what hypnosis is and how it works. On October 16, Vincent Chung from Chicago Hypnosis & Hypnotherapy gave a short lecture on the topic and demonstrated a group hypnosis for the students that were present at the meeting.
The brief 30-minute hypnosis session included: feeling happy for no reason, letting go of negative thoughts or emotions, and ultimately relaxing their minds. For Chung, hypnosis and being self-conscious alters people's feelings in a positive way so that they feel better about themselves.

According to Chung, "[His] career path was to go to Wall Street and devise mathematical trading algorithms." However, he realized "there was a human aspect to trading, as there is for everything."
Now as a professional hypnotist, Chung works with major sports teams in the Chicagoland area in Sports Performance Enhancement and has two Preventive Care clinics in Northbrook and Buffalo Grove to help people overcome anxiety and fears. 
"About 40-50% of people have some kind of anxiety and about 30% have severe anxiety," Chung said. "Teaching them how to relax and do self-hypnosis is the first step so that they wouldn't have to keep coming to me to get help. Once you take away negativities, you add in positivity, like confidence."
What Chung calls the behavior modification takes place in the second session when people are made to imagine something that they are extremely happy about. The basic idea is that if people feel good about something, they would be more likely to do it for pleasure.
"Humans do things because they want to be happy, so all you have to do is to associate happiness with anything you want," Chung said. "Let's say you don't want to study — but imagine yourself feeling intense happiness when you study. Anything you are happy about, you can't wait for, so you would do that first."
Through such activities as hypnosis, the Psychology Club aims to help students develop a psychological insight into themselves as well as the people around them. Ultimately, Sun and Talloo hope that Psychology Club can help people have a better understanding of each other as they learn about the inner workings of the human mind.
"Hopefully, we can have a bigger impact on people to think critically about and reflect on why things happen — why they act in certain ways and how others may behave in different ways," Talloo said. "It's also a really good life skill for people to take a step back to understand why others are doing what they are doing instead of jumping to conclusions."