Competing for Crowns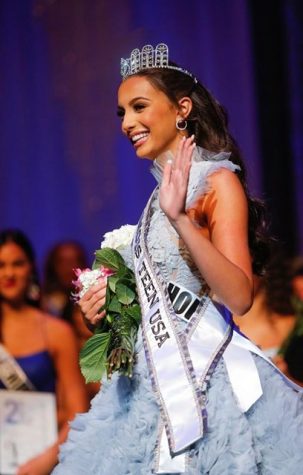 This past summer, while most students were at the beach or with friends, students like Victoria Blair Rhemrev '21 and Ria Kumari '20 spent much of their time practicing for pageants by practicing walking in glittering pageant gowns and high heels or answering practice interview questions, and even, in Rhemrev's case, creating charities such as Sheets From a Princess. 
Rhemrev did all this in preparation for the Miss Teen Illinois Pageant, which she won on September 2nd, 2019. A current junior at Stevenson, Rhemrev is not the only student who competes in pageants. Kumari competed at the International Junior Miss Pageant in Orlando, Florida after winning International Junior Miss Midwest Teen 2019 this past March.
Rhemrev also plays volleyball and models during her free time, says that the time commitment is long. However, it is possible to balance both interest in pageants and extracurricular activities. 
 Sometimes the extracurricular commitments made at school allow those interested in competing at these events to get better at skills used heavily during pageants. These include traits like public speaking and community service, both of which are incredibly important to judges when picking a winner. 
A combination of heavy involvement both in extracurriculars and pageants is a taxing time commitment. Rhemrev feels this regularly as she tries to balance academics, her interests, and her friends and family with all of her appointments.
"Juggling all of this definitely makes it harder to study," Rhemrev said.  "I just have to make sure I am very organized and tune everything out to get things done." 
Pageants happen over a course of 1-3 days. First, all the contestants are asked interview questions by judges, and then they are asked to dress up in both "fun fashion" and evening gowns. This process will repeat for the top 15, and awards follow this second portion of the competition. 
While the pageant itself takes only a few days with events and awards, practicing for it is still a long process, whether or not the contestants have coaches or trainers. 
"People have to practice their walk for at least 5 minutes a day with their dress and shoes to get used to walking confidently in heels," Kumari said "Practicing interview questions beforehand is important so a contestant can be comfortable in front of the judges. Repetition is the most important thing in preparing for a pageant."
Much of the emphasis judges place on deciding the winner comes from the interview portion, where each individual is asked questions by each judge in a private setting.  This happens before the stage walk so that each judge can understand the personalities of the competitors.
"Confidence is the most important thing when you're in front of the judges," Kumari said. "You need to be able to talk about yourself and highlight your personality. The judges want a teenage girl who can relate to and inspire other teenage girls."
However, one thing to remember is that every pageant system is different, and each person interested in competing should find a system that suits them. There are a number of both local and international pageants in the Illinois area. 
Research [pageant systems] on google, and you'll find that each pageant system focuses on different things, Kumari said. Whatever is more applicable to you, you should pick that kind of pageant."
One thing that many people confuse is the validity of pageants in today's era due to the misrepresentation that occurs in popular culture. The competitors are very far removed from this, and represent a more diverse and high-achieving group of people then ever before. 
"People think pageants are just for modeling, but Miss USA currently is a lawyer and people find that shocking sometimes," Kumari said "Pageants could improve on highlighting the goals and what the people would have done along with the picture they see."
For the reason that winners are usually very accomplished, pageants can be empowering to the many girls that compete. There are many pageant systems across the country, and each one allows contestants to express themselves in the way they find best. 
The Miss Universe Organization alone is an organization that approximately 10,000 women compete in. Rhemrev, who is a part of this organization, believes that it's a rewarding experience to be able to communicate with audiences on a stage.
Although competing in a pageant and possibly getting a crown is an independent event, both girls believe that their families and friends played major roles in both their preparation and success.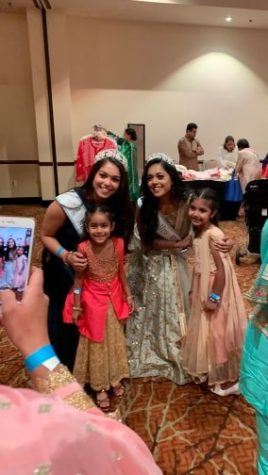 For Kumari, her mother and sister help her prepare by asking her questions as a judge would during the pageant even though she doesn't have a coach. To Rhemrev, teachers also help her be prepared for pageants. 
"My teachers and volleyball coach have been nothing but amazing through this entire experience of pageantry," Rhemrev said. "They were so eager to learn more about my title and have been very lenient as far as catching up if I ever miss a day for a pageant."  
Throughout the process of practicing and competing in pageants, both girls have learned about the importance of owning up to their own confidence and uniqueness in today's world. To these girls, the pageant is more than just a crown, it's an opportunity to build on their leadership and communication skills.
"You can truly grow so much as a person inside and out," Rhemrev said. "This experience has really been able to teach me how to find my voice."