Rowing in the deep
Sidney Kirby '18 is getting into ship-shape for upcoming rowing season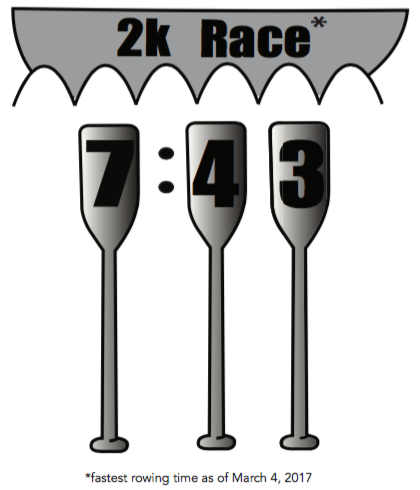 As Sidney Kirby '18 approached the point, she was looking refreshed and well rested. No outside observer would be able to guess that five days a week before school, her day begins at 4 a.m. and consists of an hour long drive to and from her rowing club, the North Suburban Crew in Evanston.
Although the hours are exhausting at times, Sidney's passion for rowing surpasses her instincts to sleep in.
"It is definitely worth it, and I have more free time after school," Sidney said, despite also participating in track.
Her eight-person all-girls team competes nonstop, whether it be against each other during the off season or against other teams, including high school teams, when the water warms up.
"We work together and compete together," Sidney said.
The team is made up of seven rowers and one cox who shouts orders, ensuring they row in unison. At the moment, Sidney's team is not competing but their training is rigorous. On easy days Sidney will run laps but majority of the time she is training using an ergometer, a piece of equipment meant to simulate the resistance and strength required of a rower.
Having previously participated in swim, Sidney was introduced to rowing through her father who used to row crew for the College of Holy Cross. After rowing for five months, Sidney admits she is hooked to the sport.
"The speed and the feeling you get in the water is unlike any other."
Sidney's dedication and passion for her sport is paying off, as she is already being recruited and has an online recruitment profile.
Rowing today is most prominent in east coast schools, one of which Sidney hopes to attend so she can continue doing what she loves. "I'm definitely looking at a rowing college," Kirby said.
Kirby believes the only barrier to forming a team at Stevenson would be monetary. Despite that, she says people should think of joining a team.
"I would recommend it to anyone," Kirby said. "It's the best sport ever."