On deck: softball
Patriots and new head coach Perry Wilhelm prepare for upcoming season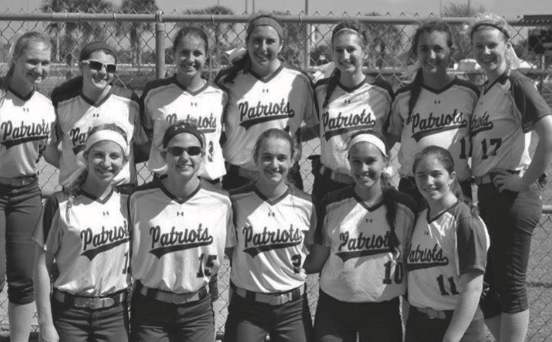 This season, Perry Wilhelm is stepping up to the plate as Stevenson's new softball coach. Wilhelm, who led Mundelein High School's softball program from 1989 to 1996, picking up two state championships along the way, is eager to take on his new role.
"There's great work ethic already and it makes me more excited to get going," Wilhelm said. "I hope to see these girls on the team grow and build leadership."
Prior to becoming Mundelein's athletic director, Wilhelm mainly coached basketball and softball. Wilhelm retired as Mundelein's athletic director this past June.
Wilhelm is replacing former head coach Alex Vikartofsky, who helmed the program for two years. In 2015, Vikartofsky coached the Patriots (18-16) to both Sectional and Regional championships. In 2016, the team went 12-16 overall.
Before Vikartofsky, the team was led by Larry Friedrichs for 27 years. He was the the longest-serving coach in program history.
Since the program first began in 1974, it has accumulated 10 Regional championships and three Sectional championships. Wilhelm hopes to build on this tradition of success during his first season.
In order to accomplish this goal, the team conditioned, for the first time in recent years, during the preseason before school. They participate in Stevenson's strength and conditioning program (SSC) on Tuesday and Thursday mornings.
"At the end of the day it's about having a good process, so that way when bad times come you will have a solid foundation to fall back on," Wilhelm said.
The season will kick off on March 22 with a home game against Glenbrook South. Anna Fossier '19 thinks that the program's hard work will pay off.
"We've been putting in a lot of hard work physically, and now I think it's about tying the team together so we are mentally prepared for the games," Anna Fossier '19 said.
Fossier is a member of Stevenson's softball team, but during the off season she competes with the Vernon Hills Stingers. This season as a returning member she hopes to make the varsity team.
"I'm excited to see what's new this season," Fossier said, "I think it will be a good year."
Alyssa Pauly '17 joined the varsity team her sophomore year and competes with Illinois Impact during the off-season along with other girls on the team. She hopes that the newfound intensity of the program will create a closer bond between the girls.
"Last year the team was divided, so to have a successful season we need to come together more. I think the new coach will help with that," Pauly said.