Protect and connect
Security guards' aims include building positive relationships, providing safety at school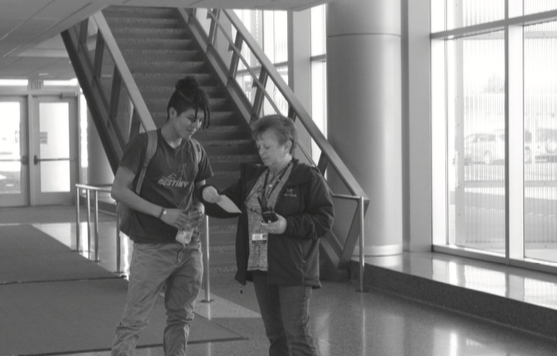 From the Point to the Field House doors there are thousands of students, parents and teachers constantly entering and exiting the building. Even though each face is caught on camera by one of the hundreds of security cameras always on at Stevenson, it's hard, in a sea of over 4,000, to know if and where a threat may lie.
Posed at every entrance are the eyes and experience of Stevenson's security personnel whose goal is to spot a threat before the cameras do. Armed with a walkie talkie system that connects every security guard to the camera room, deans, nurse, assistant principal and principle, they make up the bulk of Stevenson's security.
What's less apparent is the extensive training on situational recognition and relationship forming that all guards are required to have.
Security guards receive on-the-job training on how to recognize potentially dangerous situations, how to talk to people, as well as CPR and first aid.
"We look for somebody that looks like they don't belong," security guard Sher Tigance said.
In the case of an unauthorized person entering the building, security personnel are trained to try and stop them. However if an imminent threat emerges, like the presence of a weapon, they are told to get the students to safety and call the police as soon as possible.
"It's not all bad people that come in," Tigance said. "We have to direct people to the right places and find out who they're here for and what they're here for."
Security guards are are also trained on forming positive relationships with students.
"We want to have a connection, so when you need us, we know you feel comfortable coming to us," security facility manager Deanna Dreyer said.
The majority of a security guard's job at Stevenson is looking around at students and making sure they are behaving, and are safe and happy. Security guards are responsible for the well-being of students, as well as their physical safety.
"They help us feel safe, you see so many of them walking around," Branden Vilk '17 said. "They're friendly faces."
A requirement for a job with Stevenson security is to want to work with students, and form relationships that are not adversarial. The goal for security, ultimately, is to connect with students instead of providing the stereotypical intimidating security force.
"If the security guards were stauncher and harder to get along with, I don't think you would feel any safer," Dreyer said.
From the cameras and walkie system to the cars and extensive web of security guards, Stevenson is well equipped to deal with any threat. However, what sets Stevenson security apart from those at other high school's is its intentions to form positive relationships with the student body.
"Day to day, I'm the eyes and ears," Tigance said.