Wrestling three peats
Stevenson continues on conference dominance, capturing conference again this year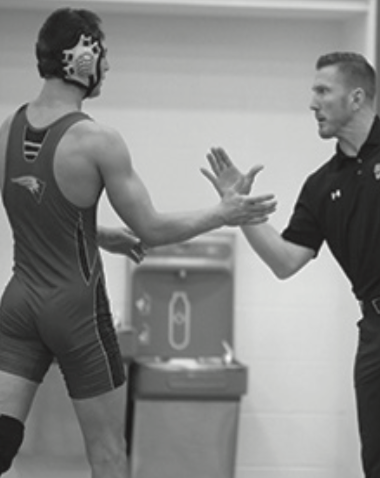 Since 2014, Stevenson wrestling has been steadily improving, achieving a better record year after year. January 20 was a special day, as Stevenson won conference for the third consecutive time, defeating Warren.
This is an incredible achievement for a Stevenson wrestling team that just over a decade ago hoped only to finish the season with a winning record. According to head coach Shane Cook, the program has revamped how they recruit students as well as created an environment which makes the wrestlers feel more invested in the program.  
"The wrestling program experienced success recently because of the hard work put in by the players and coaches," Cook said. "The wrestlers put in a lot of training over the summer and dedicate themselves during the year to helping us succeed."   
Cook has been at Stevenson for 10 years now. When he started in 2006, the program itself was strong, consisting of at least one wrestler heading to state every year for 16 years, but Cook said his goal was improve upon the numbers. There were 40 kids in the program when he arrived and now there are 80 or more wrestlers per season on the roster.
Under Cook's guidance, Stevenson wrestling has transformed into a premier program in the North Suburban Conference (NSC). Cook attributes part of this success to the good communication his coaching staff has with the athletes.
"The coaches and I are in constant contact with the wrestlers, making sure they are on top of their training routines," Cook said. "We talk to them about the strength and conditioning program, which is a huge benefit to improving their athleticism and overall making them better wrestlers."
The NSC is known as an elite wrestling conference in the state of Illinois. The conference has seen some premier talent in the last few years, including wrestlers from Stevenson.
Only a few years ago, Libertyville dominated Stevenson. Now, having beat their arch rival program three years in a row, the Stevenson seniors are on top of the world.
"It has meant a lot for me and the program to beat Libertyville, especially after Stevenson hasn't won much in the past 50 years," Nikita Nepomnyashchiy '17 said. "Since my sophomore year we have beaten them every year, and I truly believe that we are now the powerhouse in the area and that the winning streak will continue."
Historically, Libertyville has been the toughest opponent in the North Suburban Conference for varsity wrestling, especially for Stevenson. Two seasons ago, Stevenson pulled off an emotional victory, beating Libertyville for the first time in a dual meet––an achievement Cook had set out for his entire career. Since then, Libertyville has not beaten Stevenson. But the younger wrestlers have had the privilege of taking those wins for granted.
"I have never known anything different," Jonathan Meyer '18 said. " I have never known anything but us winning conference. But the experience from seniors and people older than me telling me how big of a deal it is made me realize how lucky we were to have a year or trend like this and it is still going strong––on its third year now."
It is not just varsity wrestling that has gotten the biggest takeaway this season. The wrestlers on the JV have learned a lot from those at the varsity level, taking every tip they can get to get an edge in their next match and to improve for the future.
"I always look at how they are in a match," Meyer said. "Sometimes they are put on their back and you look at their face and it is calm and cool and collected and know exactly what to do from there. The mindset that they have to have is something I envy."
According to Cook, this success begins during the offseason. Each wrestler has their own set of training routines that they go through to prepare for the upcoming season. When the season begins, the coaches push the wrestlers to train as much as they can. They go through a set of routines and exercises that help them both mentally and physically.
"I prepare the whole year," Nepomnyashchiy said. "For me, it's ongoing cycle of trying to constantly improve. Post season, I've wrestled at Team Poeta and over the summer I wrestled in Russia. Coach Cook understands how to make our bodies be at their best before competition. He focuses a lot on mental strength and improves our technique."
Now, after winning conference, the team hasn't changed how they plan to approach the rest of the season. The wrestlers keep training with the same mentality they have always have had: to keep improving.
"Coach Cook makes sure that we never lose track of the goal that we placed before the season," Gabe Oriatti '17 said. "Our mentality is to keep looking forward and to keep practicing with the same intensity as before."
Going into next season, Stevenson will lose some of the best wrestlers the program has ever had. It will mark a shift in Stevenson wrestling for the first time in four years, requiring new wrestlers to step in and continue the legacy left by the previous ones.
"These past four years have been special for me and the entire program," Oriatti said. "It has obviously been a special group of wrestlers, but I'm confident that moving forward the program is in good hands and that the young guys will step up and contribute.