Graduating seniors keep iPads
After receiving diplomas, class of 2017 will own their school-issued iPads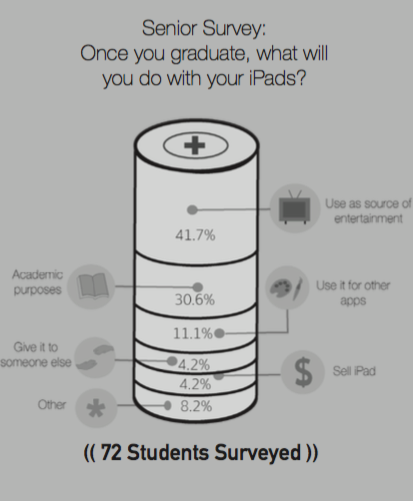 The class of 2017 will be the second group of seniors to keep their school-issued iPads once they graduate in May.
Stevenson's administration finally settled on the decision after considering the pros and cons of letting seniors keep their iPads. The administration looked at a number of factors, including price, emotional attachment and the impact of the device on a student's learning career.
According to SMARTprogram manager Nancy Hudson, after three years of a pilot period with the iPads that started in 2013, the school was ready to let graduating seniors keep their devices, only if they would receive a diploma from Stevenson. Hudson noticed that the class of 2017, as well as younger students, have been impacted more by iPads than students who had graduated in previous years, partly due to the increase in student-to-iPad interaction.
"We believe that [iPads] can continue to be a tool for them, and that's why we want [students] to take it on with them," Hudson said.
This is a sentiment that many other students can relate to, including Muskaan Gupta '17. She has spent the past three years using her iPad for to capture her high school life from everyday note-taking to storing photos and other memories on it
"I'm really glad that I can keep it and be able to make it completely mine after graduation," Gupta said.
Although Gupta used her iPad for most aspects of schoolwork in the past, once she got a personal laptop, her academic use of the iPad has gone down. She believes that once she graduates, her iPad will become more of an entertainment source instead of an academic one.
Similarly, Lauren Scott '17 has also used her iPad less after obtaining her own laptop. Now, she uses her iPad more for graphic design rather than for classwork.
"I'm probably just going to use it for my art," Scott said. "I can't think of anything to do with that I couldn't do with my phone and laptop."
However, Hudson, Scott and Gupta believe that Stevenson's decision of letting students keep their iPads is good one. Gupta feels privileged to have been given such an opportunity, especially after comparing Stevenson's newly implemented policy to that of her old high school.
"At my old school, we just got iPads introduced, so I'm pretty sure they'll be re-using their iPads every year," Gupta said. "I think we're really fortunate to have nice technology that we can keep forever and have a memento of Stevenson with us."