Wrestling with stereotypes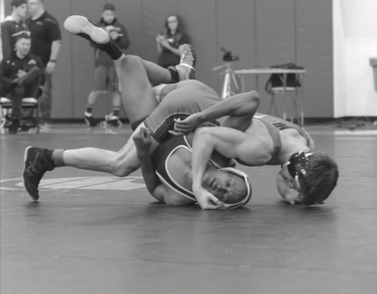 Dylan Geick '17 is the poster boy for Stevenson's varsity wrestling team. He wrestles year round, is ranked third in state the state and is a top contender to win the State championship this year.
Weighing in at 160 pounds, Geick regularly hits the mat for dual meets during the week and quads or tournaments on the weekends. He takes only four weeks off of wrestling all year.
His determination and skill at wrestling catapulted him to the top of Stevenson's 3A wrestling program and has caught the attention of some of the nation's top post-secondary institutions, including Ivy League schools.
But there is more to Geick than just his expertise and willpower in wrestling. Geick, who transferred from Vernon Hills High School to Stevenson for his junior year, is also a proud member of the LGBTQ community.
Geick said many of the reasons he waited so long to come out as gay was because of the general team environment as well as the physical contact that wrestling entails.
"Some people could have been uncomfortable if they knew they were wrestling someone who was gay," Geick said. "But what they don't understand is that this is a sport and is completely removed from that," Geick said.
Despite varying ethnic backgrounds, religions and sexualities on the wrestling team, Geick said he didn't receive a single negative response from members of the team. His relationships with his teammates never wavered.
"It just so happened that all of those kids, even those who maybe had a homophobic view before were able to see past that, and are still my friends, and we are much closer even now," Geick said.
The wrestling team wasn't the only place Geick had come out to. He had a similarly positive reaction at home.
"It was kind of tough on my parents, but they came around very quickly and are very supportive and loving," Geick said.
The team's slogan is "Always Together," and they regularly prove it. Last year when Geick went to state the majority of the team took the bus ride down with him.
"We support each other in life," Geick said.
Geick says that he feels the support of the team both on and off the mats. He credits head coach Shane Cook with making the Stevenson team feel like a family and an environment he feels comfortable in––just like at home.
"I was blessed with my coming out experience," said Geick.