Recap on new Nightmare on Stevenson Drive Event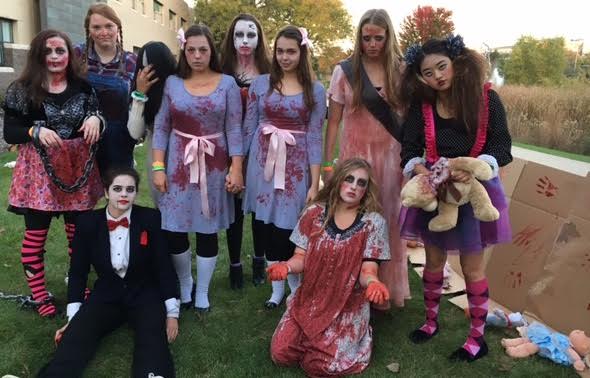 Halloween came early for Michelle Bae '19. She and over 300 other members of the Stevenson community attended Nightmare on Stevenson Drive Oct. 22.
"A lot of my friends were there," Bae said. "It was really fun to see them."
Meant to raise money for the Stevenson Foundation's new Stevenson to College program, the event featured attractions ranging from DJ music to several food booths from area restaurants.
Greg Diethrich, Executive Director of the foundation, thought the event reached its goals.
"Certainly, it was a success in drawing several hundred students there," Diethrich said. "We raised over $10,600 at the end of the day."
This year was the first an event of this type has been held at Stevenson
Nightmare on Stevenson Drive replaced the annual Color Run as the foundation's fall fundraising endeavor.
"We had done the Color Run three years in a row," Diethrich said. "We thought we should mix up the theme a little bit."
While profits were as expected, Diethrich suspects a themed run similar to years past will return next autumn, as these events saw a greater turnout.
Some student attendees were less than optimistic about participation numbers.
"There could have been more people," Bae said. "And if a few other activities were added, it would have been better."
A highlight of the event was the Haunted Trail, where costumed volunteers scared attendees in adherence to the Halloween theme.
Both volunteers from student clubs, like Diversity Council and Girls Water Polo, and adult volunteers came out to entertain community members.
"What I loved the most was that I was able to scare some kids," said Lorrie Hardy, a volunteer who worked the Haunted Trail. "I had a great time."