Beyond the mats
Paul Juda '19 elaborates on his lifestyle when not training for the national gymnastics team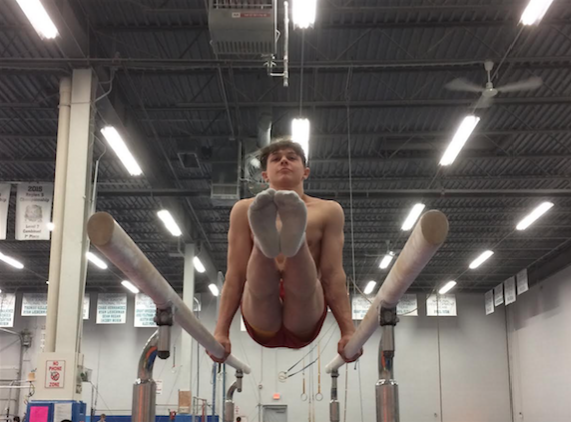 The faint smell of sweat and chalk fill the buzzing room. The rubber mats squeak as the crowd quietly stirs, waiting in anticipation. Their quiet noise is shushed and lulled away as a male figure approaches the dark blue mat laid out below a set of wooden bars held up parallel to one another by two sets of metal poles. He bows before pulling himself up onto the bars, one hand on each. He begins his routine.
This image portrays Stevenson High School's Paul Juda '19, one of the best gymnasts in the country for his age group. Juda won fifth overall in the 14U age group at the Junior Olympics, placed second overall nationally in the parallel bars event and sweeped the first place national ranking for the floor event with a score of 14.7.
But there's more to Juda than an Internet search of his name would lead to believe.
Juda began his gymnastics career at six years old, working tirelessly for four hours a day, six days a week since.
He had only experienced one hiatus on his expanding gymnastics career. In 2014, Juda experienced a back injury which took him out of the sport for six months.
"It gave me a lot of time to contemplate either quitting or continuing the sport––to think about whether it's worth it because of the stress fracture in my back," Juda said. "But it's really all worth it in the end—even if I have to work harder to satisfy myself."
Working hard was not new to Juda. The sport had already taught him that working hard to get what he had wanted was essential.
"I keep up a pretty good GPA year-round but it's pretty hard," Juda said. "I come home from practice around ten, I've gotta eat, shower, and do recovery exercises."
Juda's social life has also been largely affected by his dedication to gymnastics. After being asked whether gymnastics had taken over his social life, he laughed.
"I'm not the guy you invite to a party on Friday night because I'm usually tired or have practice," Juda said. "You won't see me going out much."
Despite the multiple ways gymnastics complicates his life, Juda does see gymnastics in his future.
"The short term goal is to continue making the junior national team and then go to college on a full-ride scholarship," Juda said. "If I do continue through college, it will all depend on my training and how good I become – if it's even possible to go to the Olympics."
Aside from his still undecided future with gymnastics, Juda holds aspirations that lead beyond the trail of an athlete, including nanosystem engineering, petroleum engineering and riding cars on Mars.
"I don't know what I want to be yet, I just know that I want to be happy and not regret any of the choices I've made" Juda said.