Guest columnist Abbie Sise reflects on time as band drum major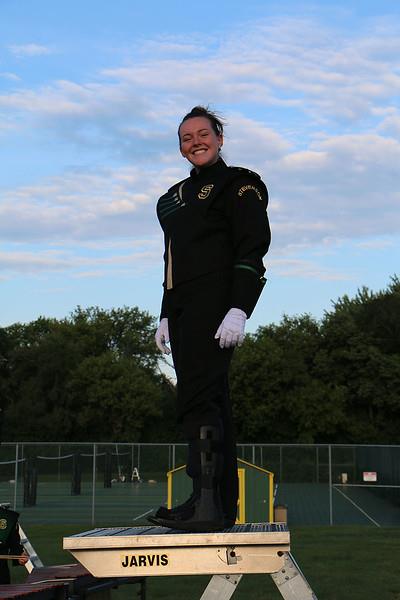 Just like any sport, band is a large commitment that ends up taking over your life. I've been in band since my freshman year, so I've experienced so many new things with the band. My freshman year was the first official year with our head director, Dr. Petway, and our associate director, Mrs. McGovern. That was a huge year for us, because two out of the three directors we had were new. Everyone was learning the new style, just as the directors were learning about us.

Our first ever performance together as a band, the very first football game, was one to remember. The directors had thought it would be a good idea to put 350 kids – with instruments –  into a section of the stands right alongside the student section. What wasn't accounted for was the size of the student section and how much space they needed versus what was actually there. We were packed like sardines trying to play, and somehow we managed to make it through that gate. Immediately the directors knew that a change needed to be made. By the next game, we had gotten stand in the end zone, with enough space for us to play. Ever since then, the band lines up single file to load up the end zone to play for every home game.

After 25 years, the band got new uniforms. This was at the end of my freshman year when the entire design process took place. The directors showed us design after design, wanting our opinion to try to make the best uniform possible for us. When we finally decided on the new uniform, we saw that it was completely different than what we already had. Instead of ur grungy white pants and outdated jackets, we had slick black pants along with a black and green jacket. Everything down to the gloves had change- all for the better. No longer did we look like the band form 25 years ago; we looked like the new Stevenson marching band, and also sounded like it too.

Like I had said, we are like any sport because it consumes your life (in a good way), so band has also led me to meet most of my closest friends. Because we spend hours on top of hours in the summer, and also weekly rehearsals, we get to know each other pretty well. As we all like to say, we become a band family. We love and support each other, even if we don't always like each other. If I hadn't continued to do band through high school, I would really be missing out. I would hate to be someone looking in on all of our fun.