Anticipating transgender athletes
Changes in gym locker rooms, tryout eligibility policy prepare for diverse student needs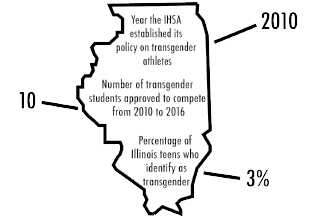 When Cassidy Nordstrom '12 came out as transgender halfway through her junior year, changing for gym class became a lot more difficult.
"I came to the issue of obviously, I don't want to use the men's room, and the women's room was just as uncomfortable for me," Nordstrom said. "I had to walk halfway across the entire school to go to the nurse's office."
Whether playing gym class dodgeball or competing in the Olympics, athletes are increasingly identifying with a gender other than the one assigned to them at birth. Nordstrom is one of many of these student athletes, and Stevenson has begun to acknowledge the unique challenges they face.
Last summer, private changing stalls were added to the men's and women's locker rooms.
"It's addressing a need for any student who's looking for an area to change clothing or to shower with a little more privacy than what would be in the general space," director of athletics Trish Betthauser said.
However, difficulties aren't solely faced in changing areas.
When speculating on which aspect of being a transgender student athlete would be the hardest, Nordstrom thought it would be deciding which team to try out for.
"I would never have known whether to join a men's team or a women's team," Nordstrom said.  "And I don't think they had accommodations for that kind of thing."
Currently, Stevenson coaches and athletic staff do not have the authority to determine whether a student participates as male or female. Eligibility to compete against other schools is at the discretion of the Illinois High School Association (IHSA).
Approximately ten requests from students to compete in accordance with their gender identity have been received by the IHSA thus far, and all have been approved. The IHSA is working to refine its policy in anticipation of increased numbers of students making use of it.
"We're having some discussions with leaders from Lurie Children's Hospital in Chicago," Matt Troha, IHSA Assistant Executive Director, said. "They're making recommendations on things we could tweak or change."
As IHSA policy continues to evolve, so does Stevenson's.
Dialogue within the athletic department is taking place to prepare for the first openly transgender Patriot.
"We're definitely having conversations about it," Betthauser said. "But our student athletes are our student athletes. We would provide opportunities as best we can for any student athlete."