Patriettes' last dance at nationals
Team not attending due to timing, qualifying and financial concerns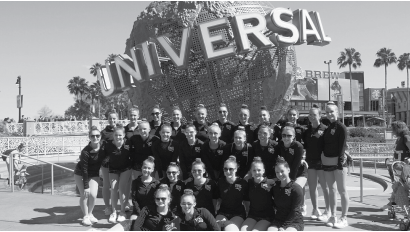 Although the varsity Patriettes had a noteworthy 2015-2016 season, placing sixth at the National Dance Alliance's (NDA) high school championships, the team will not be returning to the competition this March.
According to co-captains Analese DeMaio '17 and Abigail Asher '17, their overall experience at last year's NDA competition was a positive one. The NDA competition, which took place in Orlando, Florida, attracted teams from all over the country and even internationally.
"I think it was a great experience from] how much we grew as dancers and how much we learned from watching the other teams," DeMaio said. "It really brought us together and it was a bonding experience that you couldn't just get from going to a competition around here."
While athletic director Trish Betthauser feels that there are benefits in attending higher-end competitions, according to Betthauser, the NDA high school championships occur far too late in the season to allow much growth; once the Patriettes receive their scores and rankings, there are no more practices and competitions to accommodate much improvement from thereon.  
Additionally, Betthauser said that this specific NDA competition is not reflective of the Patriettes' competitive season due to its specific qualifying requirements and audition process. The NDA requires its applicants to submit a video routine instead of a season summary in order to be considered for a contender position in the competition.  
"Since we got second at state, we still did very well even though that didn't correlate to nationals," Asher said.  "We still worked our hardest and put in the full amount of work that would allow us to go."
According to head coach Kristin Piekarski, the national competition provided the Patriettes with opportunities to grow. Along with this, the Patriettes have restructured their routines for the 2016-2017 season, becoming one of the only teams in Illinois to choreograph their own competitive routines.
"We are thankful that we had the opportunity to meet and compete with teams from around the U.S. and who inspired us to be better dancers and exceptional teammates," Piekarski said.
 Despite the Patriettes' accomplishments, the costs associated with attending nationals were also unsurmountable.  For last year's trip, the Patriettes fundraised by selling pizzas, hosting an online auction and having car washes. While each athlete was required to pay their dues, the team made it a group effort to ensure that everyone could attend.
All in all, the cancellation of this season's nationals trip will not set the Patriettes back, DeMaio said. They have revised their goals to focus on the Illinois High School Association (IHSA) competitive season and succeed at the state competition.  
The Patriettes will be attending an invitational at Fremd high school on November 19 to kick off their 2016-2017 competitive season.