The $100 million budget
A look into the financial plan for the upcoming year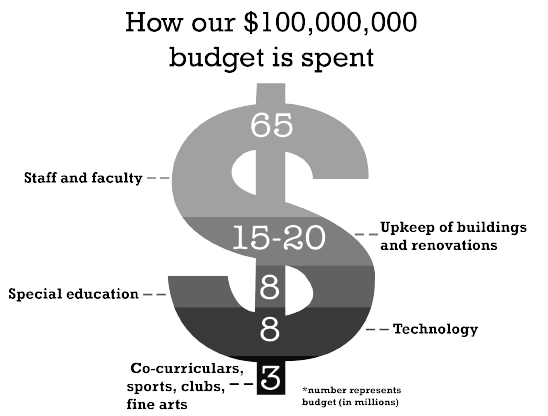 Annika Rehberger '19 walks through the Wood Commons, taking in her surroundings: shiny new tile, fresh wooden decorations, water with lemon slice—the perfect vision of a school.
But when Rehberger walks into a nearby bathroom, it is like she has crossed into another world. The tile is peeling, one of the faucets is missing a crucial piece, and an unpleasant odor fills the room.
At the same moment, Sean Carney, assistant superintendent of business, sits at his desk with a stack of papers. The papers contain comparisons between the costs of a new cafeteria versus new computers for the Link Lab.
With a $100 million budget and a school of 4500 students, there are many decisions to be made. As he contemplates his options, Carney thinks to himself, how is this going to provide success for every student?
What does success entail?
"Success for every student means providing the opportunity and environment for every student to succeed, given the tools available today," David Weisberg, school board member, said.
Indeed, with the school's motto promising success, decisions must be made regarding how to give each student the best learning experience possible. A big part of that is deciding where and how to allocate funds.
However, some students are left questioning how the school spends its money.
"The administration needs to prioritize the things they spend money on," Angelica Lopez '18 said. "We didn't need a new cafeteria, but the roof leaks. Why couldn't we fix that?"
Although the students and administration may disagree about how the budget is spent, the administration has a method to decide what is deemed necessary.
Carney used the example of the proposed replacement of the band shell in the Performing Arts Center. He said this will help the band, choir, orchestra and actors by improving sound quality and it will show these students that the school supports them.
In addition, the new band shell will make the school more attractive to potential renters, which gives the school a positive image and generates more revenue. "That's a pretty large scope of individuals that this is going to affect," Carney said.
Carney also said that it is not just the number of people that a decision will affect that makes up his mind. He believes another important factor is whether it is a beneficial decision for a particular group of students, regardless of the size of the group.
As for the tools available today, Weisberg cites studies that prove how new technology can help a student learn more productively. This includes the new types of tables being put in classrooms, which allows students to better cooperate with each other, as well as making it easier for teachers to check in on students' progress.
"My hope is that we prepare the students for what is next to come," Weisberg said.
Creating the budget
Creating a balanced budget and getting it approved is a process that takes several months. Budget planning for the next year begins in October. Next comes the first reading in May, and the final vote to approve it is in July or August.
The school board meetings for the budget are designed to give a forum for the community to voice their opinions about the budget before the final vote.
In addition to the meetings, students and parents can call the board with concerns, although Weisberg said that he does not receive many budget concerns from parents, and when he does, they are small matters specific to particular students.
How does this affect students?
Increasing property taxes, much of which goes to the school, has been upsetting to many residents of the district. It is one of the issues that contributed to the state budget standstill, during which Stevenson's state funding was unreliable.
However, the school is prepared for a lack of state funds. According to Weisberg, there are reserves of money that the school would tap into in case of this type of situation. These reserves come from extra money the school takes in, in addition to any unused money at the end of the year.
Despite the large amount of money the school takes in, some students, including Rehberger, have a problem with the way money is allocated.
"I'd rather have the money put toward better bathrooms than coffee shops," Rehberger said.
Rachel Aranyi '18 agrees. Despite being a varsity athlete for multiple Stevenson sports, she believes that the budget places too much of an emphasis on sports.
"The money allocated to athletics could be repurposed to provide new educational experiences both inside and outside of the classroom," Aranyi said.
Emily Krolak '18 would like to give students more opportunities to make personal connections to what they learn in class by taking field trips or listening to different speakers.
Elizabeth Mattes '20 suggests hiring more tutors in order to give students a more personalized learning experience.
Looking to the Future
The budget for the 2016-2017 school year was approved as of August. However, this does not mean that the school stops thinking about improvements.
Weisberg continues to attend board meetings and helps work out issues from parents concerned about resource allocation.
Carney continues to examine what Stevenson is missing and amend the budget if necessary. In January, he will begin to work on the 2017-2018 budget.
January is also when plans for renovations for the summer of 2017 and beyond will be finalized.
So far, there are plans to renovate the Wrestling and Weight Room in the West Building, as well as updates to the East Building's cafeteria.
Carney also mentioned that room 7080, the East Social Studies and World Languages office, will be remodeled to "provide more collaboration between students and teachers and amongst teachers."
Whether students will find these changes valuable is yet to be determined.