Streetfest recap
NHS redesigned school spirit event, doubles in attendance from previous year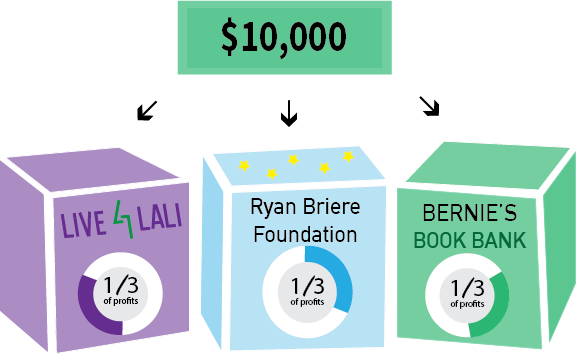 Chloe Meyers, Staff Reporter
October 7, 2016
Stevenson's annual Spirit Fest went from human foosball and attempts at breaking a world record into Streetfest with dancing and food trucks. This year's Streetfest was the most successful in years.
Streetfest brought in around 2,000 people, which is twice the amount as last year. The event raised exactly $10,000, which means that each one of the charities received $3,333.33.
Brett Erdmann, community service coordinator, said that it was the new ideas for activities and having three charities that got people excited to fundraise, as well as the new activities that Streetfest had this year.
One of the major changes this year was the decision to support three different charities instead of one. The charities this year were Bernie's Book Bank, The Ryan Briere Foundation and Live4Lali, which will each receive a third of the profits made from Streetfest.
Bernie's Book Bank provides new and gently used books to at-risk children in the Chicagoland area.
"All the support helps children in need get the books more quickly," founder Brian Floriani said.
The other charities were the Ryan Briere Foundation, which helps to promote children's education and wellness, and Live4Lali, which works to prevent and raise awareness of substance abuse.
Those who were involved with each charity took up the microphone at Streetfest and gave speeches about their organization and the reason they exist today.
"The founders of these three charities have suffered personal tragedies and have transformed their life experiences into powerful support for those in need.  These are truly extraordinary people," Erdmann said.
One of the more prominent changes to the event this year was the addition of games and entertainment. Similar to previous years, Streetfest had a dunk tank, raffle, music and fireworks. However, there were also new activities including food trucks, a beanbag toss game and a 50 foot stage for DJs and live performances.
Some students really enjoyed the fresh take on a long-time Stevenson tradition, while others said they missed certain aspects of the traditional Spirit Fest atmosphere.
"It was really fun, but I wish it had more games and more interactive stuff like last year," Dhruva Shroff '19 said.
As the night came to a close, the bleachers lit up with glow sticks and fireworks shot up into the sky. Even as the food trucks packed up and left, many students lingered.
"It was so much fun," Shroff said. "I can't wait for next year."