2020 Presidential Election Running Updates
This is a running updates page. As results arrive, you can find more information by refreshing this article.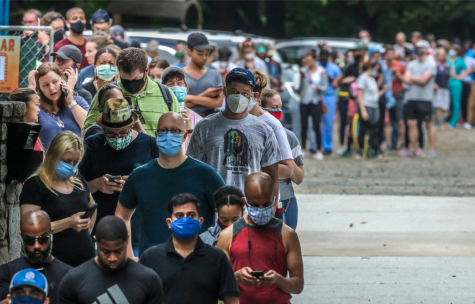 November 4, 1:34 p.m.: Biden wins Wisconsin, Trump campaign to request recount
As of 1:30 p.m., the New York Times has reported that Wisconsin's 10 electoral votes will go to Democratic candidate Joe Biden. After losing the state by a margin of 0.6 percent, the Trump campaign has announced that they will request a recount.
Biden currently leads with 237 electoral votes to Trump's 214. Key swing states such as Michigan and Pennsylvania have yet to be counted.
November 4, 11:45 a.m.: Biden expected to win Wisconsin
With around 300 votes to count coming from Richland County, Biden leads Wisconsin by more than 20,000 votes, a more comfortable margin than the Trump campaign claimed in 2016. Along with Michigan, Wisconsin will be a key state in deciding the election victor.
Trump campaign manager Bill Stepien said in a statement that Trump was within the range to request a recount of Wisconsin votes, and the campaign would immediately do so. To request a recount in Wisconsin, the margin needs to be less than one percent. Unless in the final votes the margin depletes to a quarter of one percent, the Trump campaign will have to pay $3 million for a recount.
With more than 98 percent of its votes counted, Biden leads in Wisconsin by 0.6 percent.
November 4, 11:27 a.m.: Biden gains a slim lead in several key states; Michigan becomes a key factor  
With a majority of its votes counted in key battleground states, Biden holds a slim margin in Nevada, Arizona, Wisconsin and Michigan. 
In Arizona, 86 percent of the votes have been counted and Biden holds a lead of about 4 percent. Biden holds a less than one percent lead in Nevada, Wisconsin and Michigan. If Biden wins these four key states, he will win the presidency with 270 electoral votes.
November 4, 5:53 a.m.: As mail-in ballots continue to tally in past Election night, Trump falsely suggests fraud and claims victory
Early Wednesday morning, Trump declared that he had won the presidency despite there still being pathways for a blue victory. Addressing the nation from the White House, Trump challenged the validity of post-election votes and claimed that the continued vote count in key states such as Georgia and Florida was a "major fraud in our nation." Trump promised to file a lawsuit to stop it.
"All these votes have to be counted that are in now…Tonight was not the time to make this argument. I disagree with what he did tonight," Chris Christie, former Republican governor of New Jersey, said in a statement on ABC News.
November 4, 4:37 a.m.: Trump and Biden battle neck and neck in Wisconsin
After catching up to Biden's early lead, Trump has been the projected winner of several swing states. As the votes tally, Biden begins to gain a margin. With 95 percent of Wisconsin's votes reported, Biden holds a slim lead with 49.4 percent of the state's votes compared to Trump's 49.1 percent. After a night of some unexpected losses, winning Wisconsin may be enough to allow Biden a fighting chance.
After carrying the state's 10 electoral votes in 2016, the Biden campaign spent ample time campaigning in the state. Biden hoped to widen the margins of Milwaukee and Madison County, both of which Clinton carried in 2016. Trump focused his efforts in Waukesha and Kenosha County, a county that he carried in 2016 by a couple hundred votes. Results are expected to arrive by the end of the day without significant delay.
As of 4:46 a.m., Biden maintains the country's popular vote with 50 percent of the votes to Trump's 48 percent.
November 4, 2:54 a.m.: Biden projected to win Arizona
After 25 years of consistently voting red, Arizona appears to back Joe Biden in what is a tight presidential race. In the battle to reach 270 electoral votes, Biden currently leads 238 to 213, with some key swing states leaning right.
The election has been a neck and neck affair with Biden losing key states despite taking an early lead. As mail-in ballots continue to roll in, the election may not be decided till days (or even weeks) later.
November 4, 12:20 a.m.: Trump wins Texas
Throughout election night, Texas remained on the divide between blue and red as an important toss-up state for both sides with significant influence. Trump managed to secure Texas as a red state, simultaneously giving him 38 electoral votes. Texas has usually been guaranteed to the Republican party, leaving the early blue lead unprecedented in itself.
Biden continues his lead of 227 electoral votes, while Trump follows close behind with 213.
November 4, 12:07 a.m.: Biden projects optimism in a statement on the results, Trump to give a statement shortly
Even as swing states such as Florida swing red, Biden offered an optimistic statement claiming that they were on track to win. Biden may be set to win the swing state of Arizona, and with the mail-in results left for a toss, he projected hope that he was 'projected to win.'
Trump immediately responded, claiming that the Democrats 'were trying to steal the election' in a tweet that Twitter placed a fact check warning on. Trump also tweeted that he too would give a statement shortly.
November 3, 11:44 p.m.: Trump claims Florida, Biden wins Minnesota
Trump is projected to win Florida. While earlier in the evening the Biden campaign saw a chance of it being blue, Trump won the state with 51.2 percent of its votes.
Biden is projected to win Minnesota and its 10 electoral votes. It was expected that he would win it by a narrow margin.
November 3, 11:14 p.m.: Trump wins Ohio
Trump is projected to win in Ohio, a battleground state, gaining 18 electoral votes. Unlike the last election where Clinton spent little time campaigning in Ohio, leaving Trump an open ground for his campaign, both parties campaigned heavily in this state all the way up to the final days. A major swing state, this update, along with the projection that nearly every swing state is shifting red suggests an early Trump victory as of Election Night.
November 3, 10:46 p.m.: As Philadelphia counts its votes, Biden campaign hopes to take Pennsylvania
The election will very well hinge on a few states. 50 percent of the Pennsylvania votes have been counted, and with 20 electoral votes at stake, Trump currently leads with 56 percent of the counted votes. With Philadelphia, one of Pennsylvania's most populous cities still counting their votes, the Biden campaign holds out hope that a victory in the city will make Pennsylvania blue.
Additional votes will be counted in three batches on the Wednesday following the election, and results may not be available till several days after. Pennsylvania's electoral votes may be a decisive factor of the election.
November 3, 9:47 p.m.: As Trump takes a more decisive lead in key states, voters must remember that a blue wave is projected over the next two weeks
As the night moves on and Trump takes a definitive lead in key states, such as Ohio where he holds more than 50 percent of the counted votes, close wins in battleground states can be contested as mail-in ballots are counted. With what is known as the blue wave, more Democrat votes are expected to compile after the initial election night as more Democrats have voted through mail than Republicans.
The report on election night ignores tens of thousands of votes, including provisional ballots and mail-in votes. As the electoral map shifts red, voters should remember that victory cannot be claimed until all the ballots are counted. America most likely will not know the winner tonight.
November 3, 9:30 p.m.: Trump regains lead in key swing states
While earlier in the evening Biden held a slim lead on key states such as Ohio and Texas, with more than 70 percent of the votes counted in each of the states, Trump has now overtaken the earlier Biden projection, with the polls now projecting a Republican majority. This comes after a Biden campaign announcement where they claimed they were optimistic about turning Ohio blue.
No Republican president has won the presidency without Ohio. If Biden were to win Ohio, Florida or North Carolina, it would almost guarantee him a victory even prior to the mail-in ballots being counted.
November 3, 8:30 p.m.: The Nevada Supreme Court denies Trump administration request to stop counting mail-in ballots in Clark County
The Nevada Supreme Court unanimously agreed to deny the GOP request to stop counting mail-in ballots after an extension within the county. Clark County has long been Democratic-leaning, and the GOP had requested for Clark County to not use machines to verify the signatures on the votes to the signatures on file, citing it unlawful. The justices responded that the Trump campaign could not provide enough evidence to prove that their appeal would succeed.
November 3, 8:06 p.m.: An influx of electoral votes pushes Biden further in the lead, Trump still following close behind
Trump pushes ahead with victories in Nebraska, Wyoming, South Dakota, North Dakota, Louisiana, and Indiana, earning him more than 30 electoral votes. However, Biden stays in the lead by winning New York and New Mexico, both of which carry significant influence in electoral votes. 325 electoral votes are remaining.
November 3, 7:57 p.m.: Biden holds fewer Latino votes in Florida than Clinton did in 2016
According to exit polls, fewer Latinos in Florida have voted for Biden than they did for Clinton in 2016. More Cuban Floridians backed Trump, while Puerto Rican Floridians showed more support for Biden.
Throughout the campaign process, Biden tailored his campaign to reach the Hispanic community. However, the economy was one of the major issues listed by Floridians and many favored Trump's policies on the issue.
November 3, 7:22 p.m.: Biden holds an early lead in key states of Texas, North Carolina and Ohio
In states that have previously voted red, Biden holds an early lead in the states of Texas, North Carolina and Ohio. If Biden wins Ohio, Trump will not have a path to re-election. If Biden wins North Carolina, Trump will have almost no path to reelection. While this early lead may not last, it is unprecedented to see these usually Republican swinging states are favoring Biden in the early hours of the election.
However, of the 60% of the votes in North Carolina, 97% of the votes are early votes, which favors Biden. In Ohio, 53% of the votes are expected to be early votes.
November 3, 7:14 p.m.: A burst pipe in the Atlanta State Farm Arena will delay the counting of absentee ballots
A burst pipe in the Atlanta State Farm Arena will delay the counting of thousands of mail-in ballots. Officials say that no voting machinery was damaged.
This update will have no impact on the value of the votes. All votes will be counted, though the arrival of the results within the county may be delayed.
November 3, 7:05 p.m.: Joe Biden takes the lead with an influx of Atlantic states, while Donald Trump follows close behind
Biden reigned victorious in the states of: Connecticut, Delaware, Illinois, Maryland, Massachusetts, New Jersey, Rhode Island, pushing him in the lead. Trump hailed victories in: Alabama, Mississippi, Oklahoma, South Carolina, and Tennessee.
With 398 votes remaining, Biden is in the lead with 85 electoral votes, and Trump follows closely with 55.
November 3, 6:38 p.m.: Joe Biden turns the tables by winning Virginia
As polls close down and results trickle in, Biden takes the lead for the first time after a large victory in Virginia. Trump trails close behind with a victory in West Virginia. Both were expected to win their respective states.
With 509 electoral votes remaining, Biden is in the lead with 16 electoral votes, and Trump follows closely with 13.
November 3, 6:02 p.m.: Donald Trump takes an early lead
As the first states are finalized, Donald Trump wins Kentucky as expected, and Joe Biden wins Vermont, based on the results of in-person voting and the counted absentee ballots. However, when mail-in votes get counted, the results may change.
With 527 electoral votes remaining, Trump is in the lead with 8 votes, while Biden follows close behind with 3.
November 3, 5:56 p.m.: These are the states you should be looking at
The results of this election will be predictably unpredictable. Over the final stretch of the last few weeks, both Biden and Trump have been campaigning in strategic states in a last attempt to gain voters. In the electoral college, the majority votes of a state go entirely to the winning candidate, which is why swing states are so important in determining the future of the Oval office.
Population dense counties often determine the direction of the state's votes. Here are the counties (and states) that will be most influential in the race between Trump and Biden.
Cuyahoga County, Ohio: In the last three elections, Ohio's popular vote favored blue, but in 2016, Trump won the state by 8 percent. If Biden is able to maximize voter turnout in this county, especially with minority voters, he has a good chance to win it in what is predicted to be a close race.
No Republican has ever won the presidency without carrying Ohio. With eighteen electoral votes, Trump has a greater chance of carrying the state with a 56 percent chance of victory in Ohio. Whoever wins this state may claim the entire race.
Maricopa County, Arizona: Accounting for over 60 percent of the state's population, whoever wins the county will likely win the state. Projections show Biden is leading Arizona by around six points. A blue victory in Arizona would be the first one in nearly 70 years.
Milwaukee County, Wisconsin: The dip in Black voters in the last election allowed Hillary Clinton to narrowly lose the state. Bolstered by a larger turnout of minority voters, Biden currently holds a modest lead in the state. The surge in Democratic support is largely due to the presidential response to the pandemic, where voters believe Biden would handle it better.
Seminole County, Florida: The last Democratic nominee to carry Florida was Harry Truman over 70 years ago. Trump's victory came at a margin of less than one percent in the state. Biden has a predicted advantage in Florida by a margin of three points, though the margin of error is estimated at three point two points, so it is likely that the candidate that carries the state will do so by a slim margin.
Many voters in Alachua County, a heavily Democrat-leaning county, reported receiving threatening emails by the Proud Boys, an extremist right-wing group, threatening voter safety unless they voted for Trump.
Erie County, Pennsylvania: After voting for Obama during the 2008 and 2012 elections, Erie County swung red in 2016. While a relatively small county, its concentration of white working-class voters allows for a better projection on how similar demographics will vote across the map.
With 20 electoral votes, Trump won the state by less than one percent last year. This year, projections say that it is leaning blue. The key to winning the state may come down to blue-collared workers, specifically those in the fracking industry.
Wake County, North Carolina: Holding the densest population within the state, Wake County will play a major role in deciding the victor of North Carolina. Both Biden and Trump have campaigned in the state this past week. The U.S. Court of Appeals ruled that mail-in voting ballots will be counted until November 12th, and while the Trump campaign filed appeals against the decision, the carrier of Pennsylvania won't be definitely known by the end of the night.
Macomb County, Michigan: Trump's victory in the last election was dependent on this county, where he won by over 40,000 votes but carried the state by only about 10,000 votes. Biden currently leads in Michigan, and former President Obama joined Biden in campaigning there last Saturday.
Georgia: Biden leads in Georgia by the narrowest of margins. Early voting in the state has broken records, and all ballots must be received by the end of tonight. Therefore, it is likely that the November 3rd projection of Georgia will accurately name the victor of the state.
Nevada: Biden leads in Nevada by a projected nine points. Trump narrowly lost this state in 2016. The Democratic-leaning state is largely defined by the large turnout of Hispanic voters that tend to vote blue.
Texas: Texas is a heavily leaning red state, but the record-shattering turnout of young voters who have already shattered records toss-up the state to the possibility of it turning blue. The main division in the state is between voters who trust Trump with the economy and those who are turned off by Trump's mishandling of the resurfacing racial tensions. Trump currently leads this state by around one percent.
Iowa: Trump carried Iowa in 2016, and he and Biden are neck and neck in this state, though some projections place Trump up seven points in this state. Trump has lost holdings on college-educated voters and male voters over the last four years.
New Hampshire: Biden leads in this state by around 11 percent. Four years ago, Trump lost this state by a slim margin.
Minnesota: Biden leads in this state, with 53 percent of projected voters to Trump's 44 percent. Minnesota has not voted Republican since 1972, and Trump's attacks on refugees in this state may have lost him some footing.
November 3nd, 12:54 am: Election Day will look more like election week 
General consensus speculates that, as of November 3, regardless of the projection, the Trump campaign will claim an early victory. While the Trump campaign has denied this, a piece by Axios has confirmed that Trump has told confidants that if it looks like he is ahead, he will declare victory on Tuesday night. 
In a tweet posted this Friday, he claimed that "The Election should end on November 3rd, not weeks later!" Two days prior, he told reporters in Nevada, he said that "Hopefully, the few states remaining that want to take a lot of time after Nov. 3 to count ballots, that won't be allowed by the various courts." 
Election night has never certified the presidency, only offered a usually accurate projection. Some Stevenson students as well share this consensus of an early Trump victory. 
"I expect Trump to win in-person voting, but when mail-in ballots are counted after the election date Biden will win," co-captain of the Stevenson debate team, Alex Zhou '21 said. "I think Biden supporters are going to be using mail-in voting more than Trump supporters."
As mail-in votes are being counted, due to the high number of mail-in voters, the true winner will not be declared till weeks after; instead, merely a projected winner will appear based on the in-person votes. While in previous elections the projection generally aligned with the victor, the unusually high number of mail-in voters means that a President-Elect will not be known by the end of Election Day. 
November 2nd, 6:54 pm: President Trump says that as soon as election day is over, "we're going in with our lawyers" 
With the spread of COVID-19 increasing over the past weeks, mail-in voting has been favored and used to protect Americans from virus exposure. President Trump has continuously expressed the idea that he does not trust mail-in voting, claiming high amounts of election fraud despite studies citing otherwise. 
In a discussion about the extended deadline of mail-in voting in Pennsylvania, Trump claimed voter fraud without basis, alluding to the fact that Pennsylvania's Democratic governor would interfere with the results. More proof in reference to his general distrust of the mail-in voting system can be found on his frequented Twitter account. 
"With Universal Mail-In Voting (not absentee voting, which is good), 2020 will be the most INACCURATE & FRAUDULENT Election in history," Trump tweeted. 
Trump was not clear on the grounds that he would claim legal action on, but his comments come after a campaign of clear distrust in the mail-in voting system. When John Adams lost the election to Thomas Jefferson, he began a century-long tradition of a peaceful transition of power, a hallmark of American democracy. Trump's vague references to not accepting the results of this election have put into question the tradition and the power of the voters.  
"Well, we're going to have to see what happens. You know that. I've been complaining very strongly about the ballots. And the ballots are a disaster," Trump said in a previous news conference. 
These claims delegitimize the election and the power of the voters. In a democratic nation, the voice of the voters is what allows the country to be represented.  
"[Not accepting the results of the election] goes against the 20th amendment," Allison Frank ''22, an activist and member of the LGBTQ+ community said. "It's blatantly unconstitutional, and he is taking away power from the voters." 
Despite the results of the election, it is speculated that if he is not projected the winner, Trump will claim fraud. If his appeal reaches the Supreme Court, a newly minted conservative majority would almost guarantee his victory. 
Pre-Election Updates 
After weeks of mail-in voting, Election Day has arrived. In perhaps one of the most important displays of democracy in recent American history, Americans face the vote between President Trump and former Vice President Joe Biden in what will likely decide the course of the nation amidst a pandemic and resurfaced racial tensions. The 2020 election has already generated impressive participation of American suffrage, with 98.9 million Americans already casting in their votes as of November 3.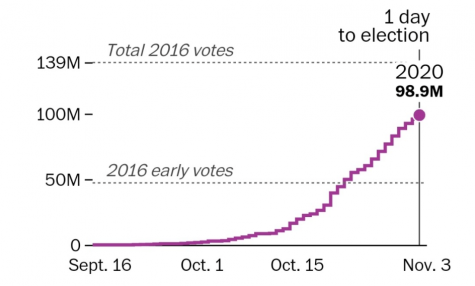 One of the reasons this election has garnered such high interest from the public as opposed to previous elections is the nature of the candidates and their campaigns. While usually, party divides occur due to differences in policy, the difference between candidates this time has more to do with a matter of human rights rather than legislation. Compromise is a huge part of politics, but most find it difficult to compromise their values and find a middle ground. 
"This election makes or breaks my future," Frank said. "People's lives are at stake, and it isn't just Democrat or Republican anymore. It comes down to who you are morally as a person." 
Throughout his presidency, many in the LGBTQ+ community point to Trump's anti LGBTQ+ policies, which include his opposition to the Equality Act, his appointment of judges with anti-LGBTQ+ records, and his ban on transgender persons to serve in the military. With the appointment of Amy Coney Barrett, a conservative judge to the SCOTUS, members of the LGBTQ+ community could lose some of their rights, especially with the status of the Marriage Equality Act hanging in the air. The status of these fundamental human rights depends on this election, which is part of the reason why the election is so strongly divided amongst party lines. 
"I think this country's diverging from a common center to the point where people are just believing completely differently on every single topic," Zhou said. "There's a lot less of a gray area or where people can connect." 
While many voters have placed their values over policy and have chosen to "settle for Biden," a portion of voters plan to vote for Trump purely because the human rights up for question will not affect them. This extreme divergence and lack of common ground have caused the campaigning to be extremely cutthroat, with attacks from both candidates focusing on the scandals of the people running versus their policy. From unorderly debates to attacks on personal life, this election has been a power-play more so than a representation of democracy. 
With so much at stake in this election, it has drawn in the eyes of the younger generation of voters. Youth participation has reached an all-time high, and speculation based on the already received mail-in votes suggests that by youth suffrage alone, Texas may be blue, something that has not happened since the election of Jimmy Carter. On online platforms such as Instagram and TikTok, TikTokers with a platform,  such as Claudia Conway and Spencewuah, are voicing their support for Biden with groups such as TikTok for Biden and So You Want to Talk About breaking down election concepts for the general public and sharing information in a simple and sometimes obvious way. 
The election thus far has been a cutthroat affair and Americans across the country are holding their breaths for the results. While most polls put Biden in the lead, a similar victorious outlook was held for Hillary Clinton in the 2016 election, leaving voters apprehensive for the results.