Interactive Gamers Club Evolves to Pokémon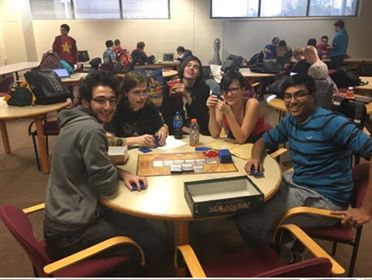 In the 2015 Pokémon World Championships, Alyssa Smith '20 shuffles 60 cards with rapid succession in her constructed deck. Her hand motions soon become an indistinguishable blur. After her opponent is unable to counter her attacks, she beams and proceeds the game.
Smith is in Stevenson's Interactive Gamers Club, which mainly focuses on magic games in terms of trading card games. However, the club has recently started to incorporate Pokemon drafts into its club because of Smith's expressed interest in the idea.
"I started to bring Pokemon drafts to Interactive Gamers Club this year because it's really become a passion of mine, so I know how much it can affect people positively," Smith said. "Even if they don't want to play competitively, it's fun to just enjoy yourself and play the game."
The Pokemon drafts have received positive feedback from its members. Tyler Gordon '18, President of Interactive Gamers Club, says that the members really enjoy playing in these Pokemon drafts, because it's a different addition to the typical magic games.
With these Pokemon drafts, Sanketh Bhaskar '18, Vice President of Interactive Gamers Club, hopes to see the club expand and increase its weekly attendance. He says that the success of expanding was helped out by Smith. He attributes the club's expansion to Smith's successful idea.
"We do what the people want us to do," Bhaskar said. "When Smith brought her friends who played Pokemon into the club, that was the first time we really had enough people who cared about Pokemon to start doing events."
Smith also wants to see the club expand even more, and she thinks that the Pokemon drafts are an effective way in doing so. She thinks that the increased interest of wanting to gain knowledge in Pokémon is also a key factor.
"We had eight people for a draft, which was good because it was just enough people since last year," Smith said. "Many are interested in learning how to play the game. Seeing people having fun reminds me of my history with Pokemon and the enjoyment that goes with it."
Ryan Fedewa, sponsor of Interactive Gamers Club, serves as a major factor in promoting the voice of Pokemon drafts and creating an awareness for it in Stevenson. He said that he always informs his students about the club and its activities, contacts the Daily Digest and advertises on the TVs around Stevenson.
Smith said that she has a genuine desire to spread her love for Pokemon and its competitions to people around her, which is apparent in the initiative she took in Interactive Gamers Club. She thinks with teaching people can have an enjoyable time playing in Pokémon drafts.
"Even for people who don't know anything about Pokemon, I want to teach them," Smith said. "We welcome everyone to learn how to play and have fun."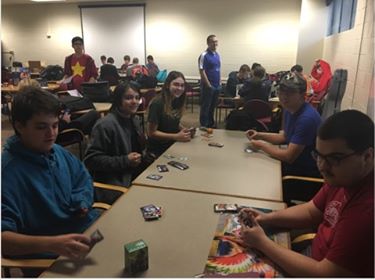 Students in Interactive Gamers Club play a Pokémon competition. Recently the club had started to incorporate Pokémon competitions as an addition to its magic games such as Dungeons and Dragons.